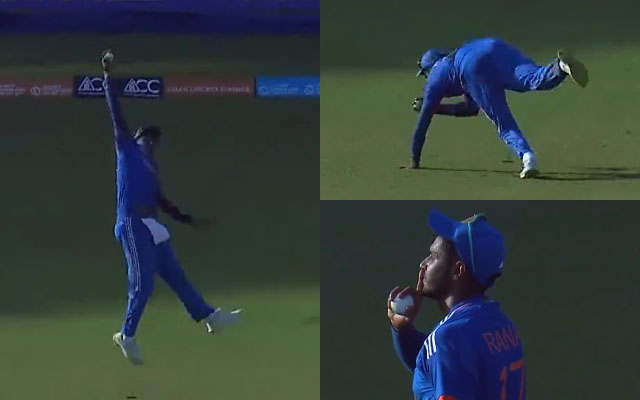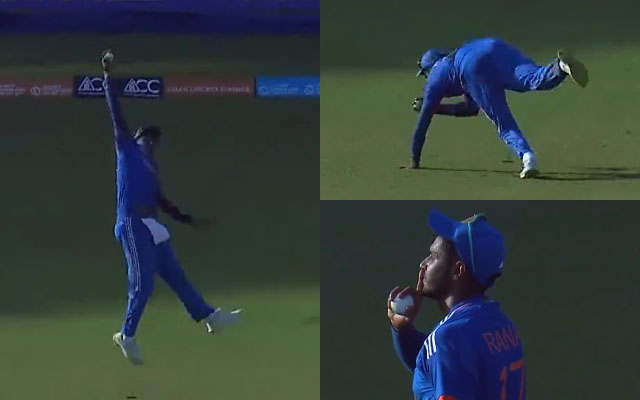 Harshit Rana takes a one-handed blinder off Rajavardhan Hangargekar's bowling to dismiss Qasim Akram in India vs Pakistan in Emerging Asia Cup.
Kolkata Knight Riders' player Harshit Rana who recently took the stage by storm in domestic cricket stunned everyone with his acrobatic catch in the much-anticipated India vs Pakistan clash.
Positioned in the slips, Rana effortlessly snatched the ball by pulling off a one-handed blinder, sending back Wasim Akram with just 2 runs short of a half-century.
Harshit Rana's extraordinary fielding effort left everyone astounded and even the bowler himself sat with hands on his head in disbelief. Rana's full-stretch jump while being completely airborne added to the incredibility of the catch.
Watch the video here:
Please check Harshit Rana's shoes for springs!#INDvPAKonFanCode #INDvPAK pic.twitter.com/wfK3A16Qwq

— FanCode (@FanCode) July 19, 2023
It all happened in the 46th over when Hangargekar, bowling from around the wicket, induced a hard slash from Qasim Akram. The ball, coming off the toe end of Akram's bat, flew rapidly towards Rana, positioned as a flying slip fielder. With exceptional timing and agility, Rana plucked the ball out of the air with just one hand leaving the spectators spellbound.
With this unforgettable catch, Rana has undoubtedly solidified his reputation as a rising star in the world of cricket.
Last Updated on July 19, 2023