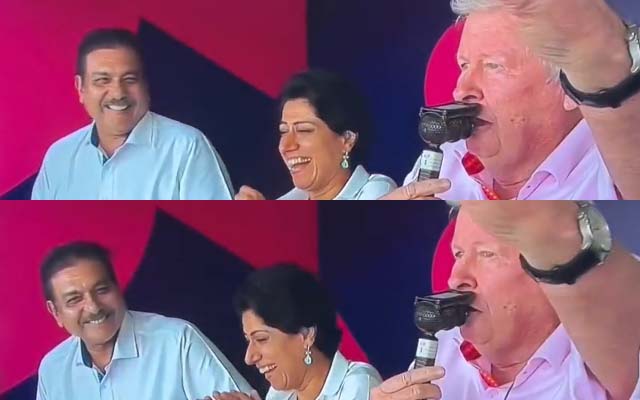 In a fun commentary box moment at the ongoing India vs. Netherlands match, former New Zealand cricketer turned commentator Ian Smith playfully imitated Ravi Shastri's distinctive commentary style.
In the ongoing ICC Cricket World Cup 2023 clash at M.Chinnaswamy Stadium, Bengaluru, India's captain Rohit Sharma, won the toss and opted to bat first. He announced an unchanged lineup, expressing India's intent to continue playing with freedom. Netherlands skipper Scott Edwards, also preferring to bat, confirmed an unchanged XI from their previous game against England.
In a lively commentary box moment, ex-New Zealand cricketer Ian Smith playfully imitated Ravi Shastri's distinctive commentary during the 30th over. The banter arose as Smith praised Shastri for transforming the toss, which was once a mundane affair with captains and a match referee. Disagreeing, Shastri insisted it remained unchanged, prompting Smith to mimic him, humorously highlighting the perceived differences. This impromptu chat left both fans and fellow commentators in the box, including Shastri and Anjum Chopra, in stitches.
Ian Smith imitating Ravi Shastri is commentary box office of the highest order 😂😂😂😂

What a brilliant moment ❤️😂 pic.twitter.com/XOCIB8cJSW

— Anuraag Peesara (@anuraagp15) November 12, 2023
On the match front, Rohit and Shubman Gill provided an explosive start for India, reaching a 100-run opening stand in just 11.5 overs before Gill's departure at 51 off 32 balls. Virat Kohli, welcomed with enthusiasm by Bengaluru fans, joined Rohit, and the pair added over 50 for the third wicket.
Despite a shaky start, Kohli found his rhythm, securing another half-century before his dismissal. Shreyas Iyer and KL Rahul then continued the momentum, with Iyer achieving a half-century as well. Notably, this has marked the first instance in a World Cup match where all top-four batters scored fifties.
Last Updated on November 12, 2023