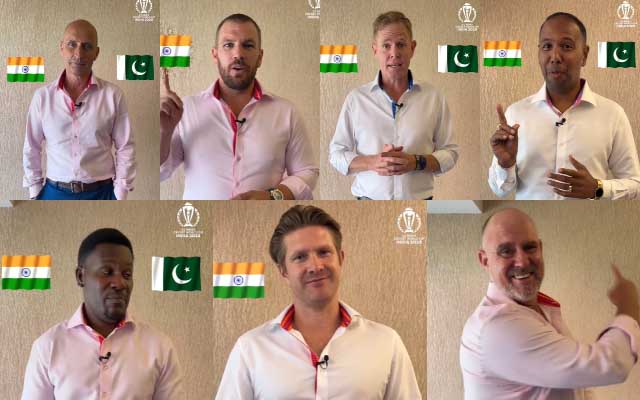 ICC's latest Instagram video amplifies the excitement as commentators reveal their picks for the long-awaited India-Pakistan showdown at Ahmedabad.
The eagerly anticipated India-Pakistan clash is scheduled to take place at Ahmedabad's Narendra Modi Stadium on Saturday, October 14. Ahead of the match, the ICC shared an engaging video on their Instagram handle, featuring commentators expressing their preferences.
Nasser Hussain made a bold choice, backing India due to their players being in stellar form. Aaron Finch also joined the India camp, emphasizing the electric atmosphere with a massive home crowd exceeding 100,000.
Samuel Badree had a diplomatic approach, picking India but recognizing Pakistan's "surprise package" nature, adding that they're unpredictable. Shaun Pollock cited the 130,000-strong Indian support, foreseeing intense pressure on Pakistan. Pommie Mbangwa, with a mischievous grin, sided with India, questioning how Pakistan could emerge victorious with their top players out of form.
Shane Watson rooted for India, highlighting their well-rounded team and dubbing them a "great package," while Matthew Hayden, embracing the confusion and unpredictability of the India-Pakistan face-off, humorously declared, "I'm out!"
Watch the video here:
The upcoming match between India and Pakistan is crucial as both teams have maintained an unblemished record, securing two victories each in the tournament. India secured victory over Australia and Afghanistan, while Pakistan conquered Afghanistan and Sri Lanka.
Last Updated on October 14, 2023