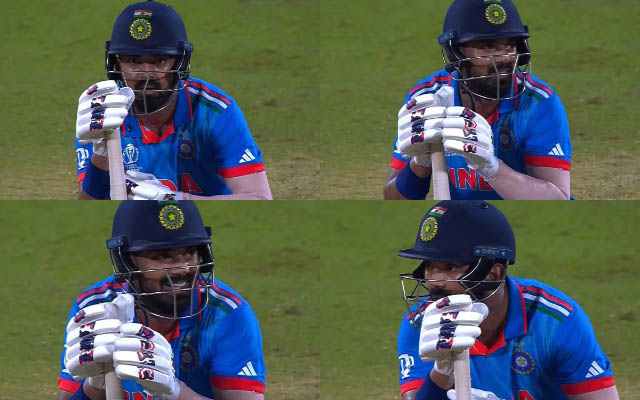 Despite KL Rahul's match-winning shot that secured India's six-wicket victory over Australia, his reaction to narrowly missing his century by just 3 runs quickly went viral.
The 31-year-old wicketkeeper-batter delivered a memorable performance in the India Vs. Australia World Cup Clash on October 8th, Sunday, leading India to a six-wicket victory. Praised for his composure and resilience, KL Rahul played a pivotal role in the match, forming a crucial partnership with Virat Kohli that proved to be decisive.
In the 42nd over of the match, India found themselves needing just 5 runs for victory, with Rahul at the crease and on the verge of his century at 91 runs. The only path to reach this milestone was by first hitting a boundary and then following it up with a six.
With apparent ease, Rahul lofted the ball on the off-side, aiming to clear the outfield. To his surprise, the ball sailed over the boundary for a maximum, securing the win for India. However, upon realizing that he had narrowly missed his seventh century, Rahul's reaction unmistakably revealed his initial intention to hit only a boundary.
" I hit it too well (Last shot for six). I wanted to get a hundred by going four and six. Hopefully, some other time I can get it," Rahul said in the post-match presentation.
Surprisingly, India faced an unexpected struggle despite restricting their opponents to a modest total of 199 runs. When Rahul took to the crease, India's situation was dire, having lost three wickets for a mere 2 runs.
India's spin trio proved to be the game-changers, dismantling the deep Australian batting lineup and limiting them to a humble score.
All-rounder Ravindra Jadeja made a significant impact with the ball, securing 3 wickets, while the Chinaman spinner Kuldeep Yadav contributed with 2 wickets. Senior spinner Ashwin also managed to take a wicket during his spell.
In their upcoming match, India is set to take on Afghanistan in Delhi.
Last Updated on October 9, 2023