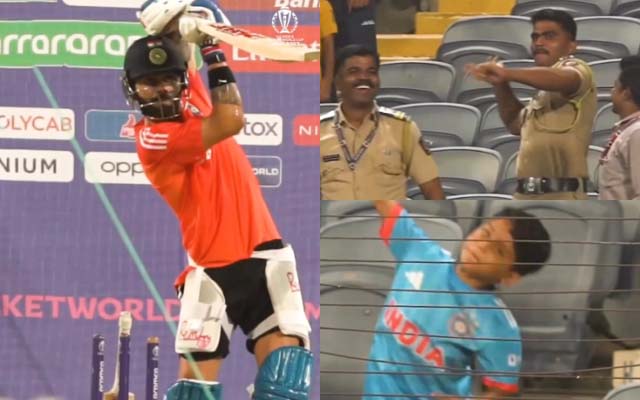 Rohit Sharma's squad maintained their high-intensity training as they geared up in full strength during a practice session before their World Cup face-off against Bangladesh in Pune on October 17.
India's top-order batsmen, including Rohit Sharma, Shubman Gill, and Virat Kohli, were the first to hit the nets during their high-intensity training session before their match against Bangladesh in the ongoing World Cup. Despite the typically optional nature of net sessions during tournaments due to hectic schedules, the Indian team has kept its training intensity consistently high, with even their practice sessions preceding the game maintained at full steam.
The open net practice provided players like Virat Kohli the freedom to unleash powerful shots, with several balls soaring into the almost empty stands. Following Kohli's display, KL Rahul, Hardik Pandya, and others followed suit, delivering big hits during their practice session. With a few spectators in the stands, they took on the role of fielders, throwing back any balls that found their way into the stands. The Indian cricket team's official handle shared an endearing video capturing these unique "stand-in" fielders during the team's practice.
As the World Cup tournament progresses, these rigorous net sessions play a crucial role in instilling a feel-good factor that transcends into performance. According to Rohit Sharma, momentum and rhythm are key factors for success in cricket. The Indian bowlers, both spinners and seamers, have consistently applied pressure on the opposition, and the batsmen have been productive.
Meanwhile, Bangladesh received promising news as their captain, Shakib Al Hasan, participated in a 40-minute batting session during their training. Earlier, there were concerns about his availability due to a quadriceps injury sustained in the previous match against New Zealand, but his active batting stint in the nets indicates he may be fit to play against India.
Last Updated on October 18, 2023