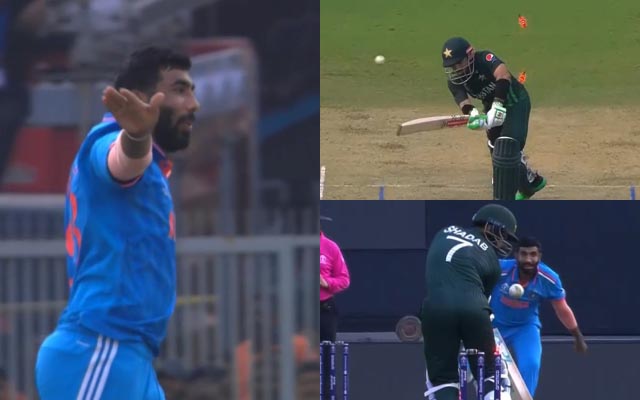 Bumrah's off-cutter dismissed Mohammad Rizwan in the 34th over, followed by another wicket in the 36th over as Shadab Khan's stumps were shattered, leaving Pakistan struggling to reach 200 runs.
During the ongoing India vs. Pakistan World Cup clash at Ahmedabad's Narendra Modi Stadium, Pakistan finds themselves caught in a streak of losing wickets, balanced on the brink of giving in to India's relentless bowling attack.
In the 34th over, a crucial moment unfolded as Jasprit Bumrah delivered a masterstroke to dismiss Mohammad Rizwan. Bumrah cleverly varied his pace, unleashing an off-cutter from a slightly wider position on the crease. The delivery darted back sharply on an almost full length around off. Rizwan, caught in two minds, was deceived as the ball sneaked past the inside edge to shatter the off stump. Rizwan departed for 49 and Pakistan quickly found themselves six wickets down.
Another wicket fell for Pakistan in the 36th over, further deepening their woes, with Shadab Khan as the batsman. Bumrah's delivery, pitched just outside off and sharply angled in, left Shadab caught inside the line, resulting in a devastating impact on the stumps. Shadab Khan looked back at his disheveled stumps in utter disbelief.
The skill, control, and precision demonstrated by Bumrah has left Pakistan's middle order in disarray.
On the match front, Pakistan's batting crumbled from 155-2 to a meager 191 all out. Jasprit Bumrah, Mohammad Siraj, Hardik Pandya, Kuldeep Yadav, and Ravindra Jadeja all chipped in with two wickets each.
For Pakistan, the skipper Babar Azam scored 50, Mohammad Rizwan contributed 49, and Imam Ul Haq added 36. India, after winning the toss, chose to bowl. Both teams have won their first two games in this tournament.
While Pakistan has never managed to defeat India in a 50-over World Cup since 1992, they hold an 88-73 lead in head-to-head ODI encounters. All eyes are now on India as they aim to chase down the 191-run target.
Last Updated on October 14, 2023