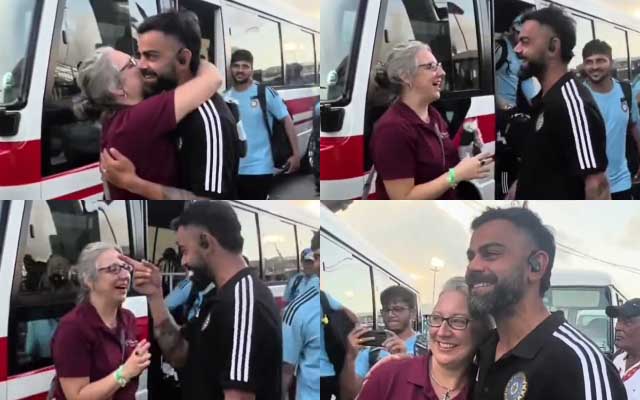 Virat Kohli's 500th international appearance resonated with fans as he notched a historic century of 121 runs in the second Test against West Indies. Amidst the thrilling action on the field, social media lit up with amusing stump mic chatter videos, offering a behind-the-scenes experience. 
Among the highlights was Joshua Da Silva's revelation to Kohli about his devoted mother, who embarked on a journey to witness her cricketing idol in action. Joshua revealed to Kohli, 'My mom called me and told me she's coming to watch the match for Virat Kohli, I couldn't believe it.'
Kohli's impressive knock of 121 contributed to India's first innings total of 438, securing a commanding lead of 352 runs by the end of Day 2 after claiming one wicket.
Adding to the emotional spectacle, Joshua Da Silva's mother was present at the stadium and had a heartwarming encounter with Kohli near the Team India bus. Overwhelmed, she hugged the cricket icon and shed tears of joy, with the emotional moment captured in pictures.
In a video shared by journalist Vimal Kumar, she expressed, "Kohli is one of the best batsmen in our lifetime. So it is an honor for me to meet him and my son to be on the same field as him."
Watch the full video here:
Joshua Da Silva's Mother in Tears after meeting Virat Kohli. pic.twitter.com/MsfTqCPCnm

— Gaurav (@Melbourne__82) July 22, 2023
Last Updated on July 22, 2023