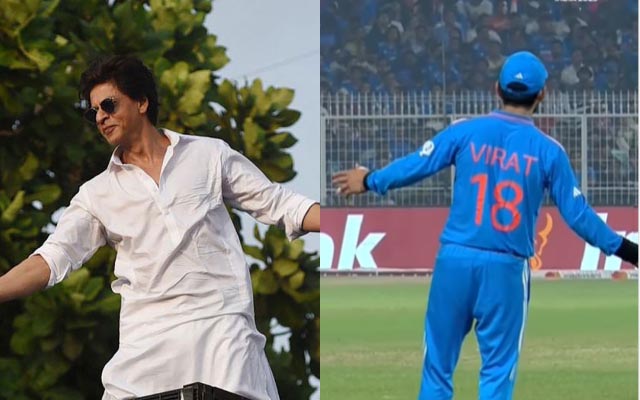 On his 35th birthday, while playing against South Africa at the Eden Gardens in Kolkata, Virat Kohli was spotted flaunting his dance moves on the field.
Indian cricketer Virat Kohli is celebrating his 35th birthday on November 5 by playing the 37th match of the CWC. The India vs South Africa match is underway at the Eden Gardens in Kolkata. In a video shared by the ICC, the former captain was seen showing off his dance moves while fielding in the second half of the game.
The fun incident unfolded 5 overs down the game when South Africa was batting. India had won the toss and chose to bat first managing to put up a formidable total of 326 runs in 50 overs. The camera panned to Kohli dancing away to "Challeya", a song from the movie "Jawan" that features Shah Rukh Khan. As Kohli was seen swaying to the music, one of the commentators of the game went, "The birthday boy seems to be having a party."
The ICC playfully captioned the video with a reference to Bollywood superstar Shah Rukh Khan, saying, "@iamsrk has got some competition." The video quickly went viral, amassing over 2.5 million views in just 50 minutes after its online release.
Kohli has been on the receiving end of heaps of heartfelt birthday wishes today on social media from fans, fellow cricketers, coaches, and veterans of the game. The celebratory mood was augmented by his stellar performance in challenging conditions, equalling Sachin Tendulkar's record with his 49th ODI century.
READ MORE | Wishes Pour In as Virat Kohli Marks 35th Birthday with Century Milestone on the Line
India has secured the top spot with 14 points after winning every match this season, already confirming their spot in the semi-finals.
Last Updated on November 5, 2023