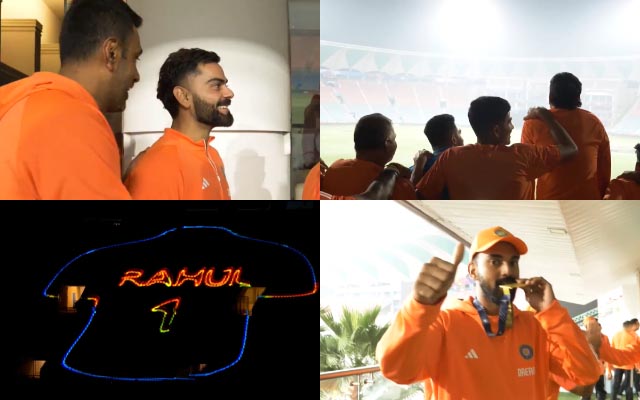 As KL Rahul clinched his second 'Best Fielder' medal at the World Cup, the Ekana Stadium plunged into darkness while LED lights illuminated a stand with Rahul's jersey.
The introduction of a new rule awarding a gold medal to the standout fielder has notably amped up the motivation of Indian players in the ongoing 2023 World Cup. Players are now diving and sliding to save every run, and even the substitutes are joining the show.
But the real fun? Fielding coach T. Dilip has spiced up the competition. In Pune, the winner's name lit up the stadium like a jackpot and in Dharamsala, it was a sky-high surprise from the spider cam. In Lucknow, Dilip took things a step further to pleasantly surprise the Indian team.
"This medal is merely not about statistics. It's not about just one good catch or saving some runs. It's who bring on the spirit on the field. And what that one act you make how much the impact is making on the match. All that is counted and those are the winners," said Dilip in the dressing room.
The award contenders included substitute fielder Ishan Kishan, fast bowler Mohammed Siraj, and KL Rahul.
After the speech, the fielding coach asked everyone to come out to the balcony. Amid enthusiastic cheers from the team, the Ekana stadium's floodlights gradually dimmed, and LED lights brilliantly displayed KL Rahul's jersey in one of the stands.
Previously, Rahul received the 'best fielder' medal after India's victory against Pakistan at Ahmedabad's Narendra Modi Stadium.
Against England, he contributed with the bat as well, scoring 39 runs from 58 balls. In partnership with captain Rohit Sharma, who scored 87, they added a vital 91 runs for the fourth wicket.
On October 29th, India notched their 6th consecutive win, taking the top spot with 12 points. Jasprit Bumrah and Mohammed Shami's fiery opening spells, combined with Rohit Sharma's resilient 87, led to India's 100-run win over England.
Last Updated on October 30, 2023