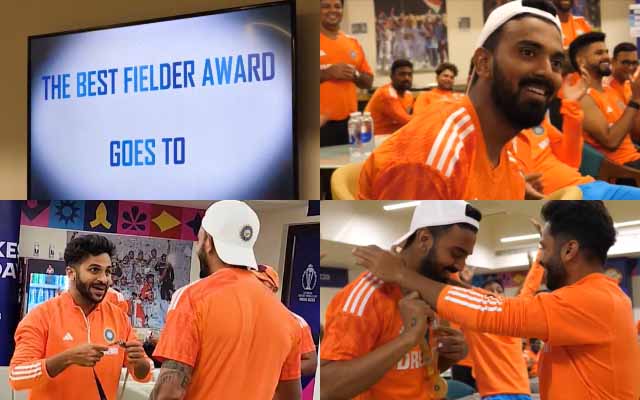 Following India's victory over Pakistan, KL Rahul was named the third recipient of Team India's "Best Fielder of the Match" award for his exceptional catch of Imam-ul-Haq off a delivery by Hardik Pandya.
In the midst of the thrilling 2023 World Cup, the Indian cricket team's fielding coach, T Dilip, has introduced a unique tradition that applauds and rewards standout fielding performances by the players.
Following India's solid 7-wicket victory over Pakistan in Ahmedabad on October 14, KL Rahul earned this prestigious award for his exceptional wicket-keeping and fielding performance. This medal recognized Rahul's remarkable diving catch to dismiss the formidable Imam Ul Haq and numerous other agile saves behind the stumps.
The post-match ceremony in the dressing room was filled with praise and appreciation for the entire team's fielding efforts. Several players received special mentions for their stunning performances. Mohammad Siraj, Kuldeep Yadav, Shardul Thakur, and Jasprit Bumrah were highlighted for their exceptional speed and precision on the field. Ravindra Jadeja, often regarded as the "World's best fielder," was also commended for his constant excellence, characterized by precision and speed. Shreyas Iyer was lauded for his top-class efforts.
"One skill which generally gets ignored, I think that is wicket keeping. I think overall KL was fantastic. Well Done!" said the coach, when announcing KL Rahul as the winner. He then called upon the previous medal recipient, Shardul Thakur, to pass the medal to Rahul. The dressing room echoed with cheers and laughter as each player was acknowledged.
The award's first recipient was former Indian captain Virat Kohli, recognized for his fielding skills in a match against Australia. Kohli's fielding included two important catches—one a stunning grab to dismiss Mitchell Marsh off Jasprit Bumrah's delivery and the other off Adam Zampa from Hardik Pandya's bowling. The award's second recipient, Shardul Thakur, earned the honor with his impressive catch of Rahmanullah Gurbaz during a victory against Afghanistan.
Last Updated on October 15, 2023