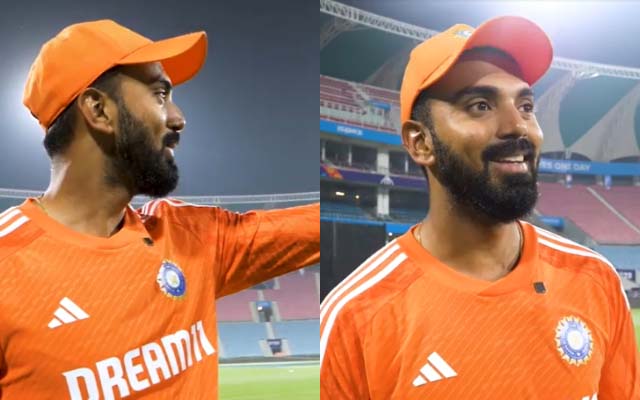 KL Rahul, the Indian wicketkeeper-batter and Lucknow Super Giants IPL captain, provided a behind-the-scenes tour of Lucknow's Ekana Stadium ahead of the World Cup clash between India and England.
The Indian wicketkeeper-batsman and captain of IPL's Lucknow Super Giants (LSG), KL Rahul, offered a virtual tour of Lucknow's Ekana Stadium ahead of the highly anticipated 2023 World Cup match between India and England. In a video shared by the BCCI, Rahul shared his emotions about returning to this venue, reflecting on his experiences playing in front of passionate crowds. He also discussed his recent injury and shed light on facing his LSG teammate, speedster Mark Wood, in the upcoming match scheduled for Sunday, October 29.
KL Rahul is back to a ground that has given him life lessons & bittersweet memories 🏟️

On Sunday, he wants to make memories that he'll remember only for the good 👌👌

Muskuraiye, KL Rahul Lucknow mein hai 🤗

WATCH 🎥🔽 – By @28anand #TeamIndia | #CWC23 | #INDvENG

— BCCI (@BCCI) October 28, 2023
KL Rahul suffered a significant thigh injury during an IPL 2023 match against the Royal Challengers Bangalore (RCB), marking the last time he would see action for an extended period.
In the video, Rahul shared his emotional turmoil, revealing that returning to the same ground brought back memories of the injury. He expressed how the injury had a profound impact on his career and life, noting the emotional toll of frequent injuries on any athlete, making it a bittersweet experience to revisit the stadium where it happened.
"When I entered the ground and I had to do a bit of training, I told my trainer Rajneesh sir that my heart is racing. The last time I was on this ground, I didn't have a great experience or not such a great moment in my career. So obviously a bittersweet experience. That injury had a huge impact on me and my career so wasn't such a great moment for me, for my family. It's not a great feeling for any athlete to keep getting injured so often. I realized that it came at a time when I really needed that break away from the game because there was a lot going on with me mentally and for the first time in my career I felt like I had no answers," Rahul said.
KL Rahul's remarkable recovery from injury has been exceptional, and India is eager to see more of it in their upcoming match against England in Lucknow. So far, India boasts an unblemished record, having won all five of their matches.
Last Updated on October 28, 2023