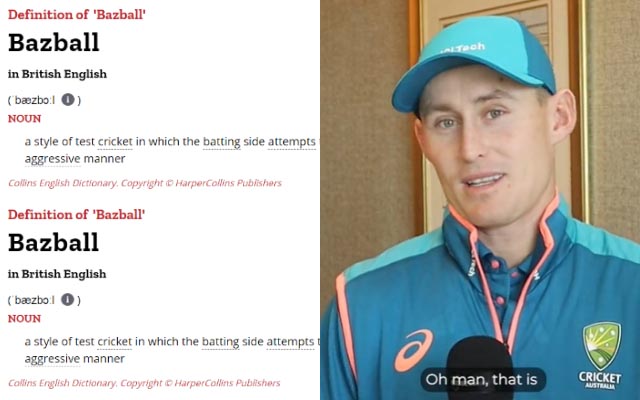 Marnus Labuschagne dismissed the inclusion of 'Bazball' in the Collins English Dictionary as "garbage," expressing his lack of awareness and surprise regarding the term.
The term "Bazball," characterizing the bold playing style of the England men's Test team under coach Brendon McCullum, has earned its place in the Collins English Dictionary's list of the top ten new words for 2023, as recognized by HarperCollins. It is defined as "a style of Test cricket marked by highly aggressive batting."
When asked about his reaction to this dictionary inclusion during an interview with cricket.com.au, Marnus Labuschagne expressed his surprise and apparent lack of familiarity with the term, lightly remarking, "Oh man, that's garbage. I don't know what that is. Honestly, I have no idea what you're talking about."
The term "Bazball" was coined in 2022 by ESPNcricinfo UK Editor Andrew Miller, following Brendon McCullum's appointment as England's Test head coach. Under McCullum's leadership, England's Test team achieved a remarkable turnaround, winning 13 out of 18 Test matches, a stark improvement from their previous dismal record of just one win in 17 matches.
'Bazball' in the dictionary? 📖🤔

#CWC23 pic.twitter.com/tlAdju5qVn

— cricket.com.au (@cricketcomau) November 1, 2023
The influence of "Bazball" extended beyond cricket, reaching other fields, including politics. During the 2023 Ashes series, Marnus Labuschagne noted the positive impact of England's aggressive Test style on Australia, stating that their method and playing style were keeping Australia competitive in the matches.
Despite the term's popularity, McCullum had expressed his dislike for it, stating that he finds the term "silly."
"I don't really like that silly term that people are throwing out there, because there's actually quite a bit of thought that goes into how the guys manufacture their performances and when they put pressure on bowlers and which bowlers they put pressure on," said McCullum.
Last Updated on November 1, 2023