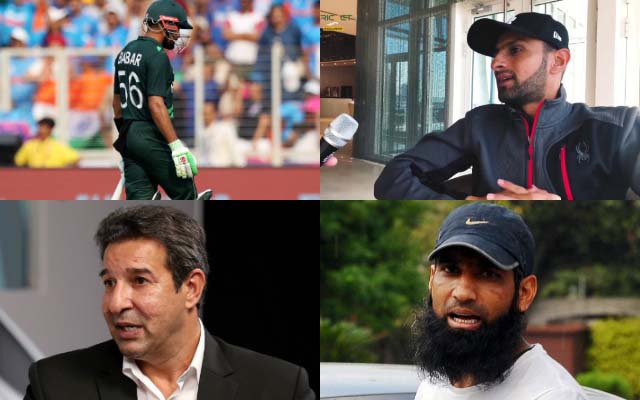 Shoaib Malik's criticism of Babar Azam's ODI leadership has ignited controversy in Pakistan cricket, with Mohammad Yousuf expressing disapproval and surprise over the public criticism.
The recent defeat of the Babar Azam-led Pakistani cricket team at the hands of India during the ODI World Cup 2023 match in Ahmedabad has left a host of former Pakistan cricketers astounded. Pakistan scored only 191 runs, and India easily won with 117 balls remaining, thanks to Rohit Sharma and Shreyas Iyer's impressive performances.
In response to Pakistan's eighth loss to India in World Cup history, former captain Shoaib Malik launched a critique of Babar Azam's leadership abilities in ODIs. During a discussion on A Sports, Malik openly questioned Azam's capacity to think innovatively as a captain and suggested that Azam stepping down from his captaincy role could be a pivotal move in his development as a batsman.
Malik stated, "I've expressed this opinion in the past that Babar Azam should relinquish the captaincy. It's my personal perspective. Babar doesn't exhibit the innovative thinking required of a captain, and despite his captaincy role, there has been a lack of discernible improvement. His true potential could significantly benefit Pakistan as a player."
Pakistan cricket legend Mohammad Yousuf was displeased by Shoaib Malik's criticism and also took issue with former captain Wasim Akram's role in the panel. Yousuf expressed his belief on Samaa TV that former players should support the team during challenging times rather than criticize them publicly.
"During the World Cup, I don't think anybody should talk about this. Secondly, Imran Khan captained in 1983 and 1987 and lost both times before winning on his third attempt in 1992. Any good player should be allowed to continue as a captain for a long time. He is the captain because he has the ability. He did not become the captain because he is related to the PCB chairman. He is a genuine skipper," said Yousuf.
Yousuf was also taken aback by Wasim Akram's failure to intervene while Shoaib Malik made critical comments about Babar Azam.
Mohammad Yousuf in reply to Shoaib Malik statement regarding Babar Azam captaincy

Imran Khan captained Pakistan in 1983, 1987 and 1992 he succeeded in 3rd attempt – Yousuf 📸(SAMAA TV)#BabarAzam pic.twitter.com/XBS4lJW2IA

— Sultan Khan (@MainHoonSultan7) October 16, 2023
Last Updated on October 17, 2023