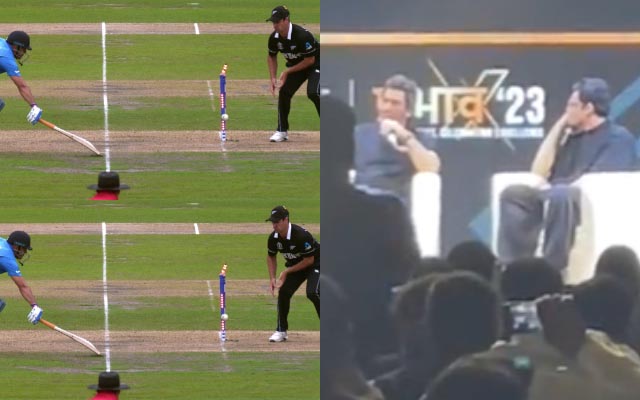 MS Dhoni acknowledged the challenge of managing emotions in the aftermath of a close game defeat when responding to a fan's query about whether he cried after India's 2019 World Cup semi-final loss.
The memory of India's shocking defeat to New Zealand in the 2019 World Cup semi-final remains vivid for cricket fans. The rain-curtailed match, filled with suspense over two days, ended in heartbreak.
India's pursuit of 240 runs took a perilous turn when they were reduced to 5 for 3 in just 3.1 overs, and the situation worsened at 92 for 6. A remarkable 116-run partnership between MS Dhoni and Ravindra Jadeja for the 7th wicket, briefly rekindling hope. However, the tables turned in the last three overs, marked by Jadeja's dismissal and Dhoni's run-out.
Batting coach Sanjay Bangar recently unveiled a lesser-known aspect of that time. During India's World Cup 2023 game against New Zealand, Bangar disclosed that Dhoni and other players were moved to tears, underscoring the emotional impact of that loss.
"It was a heartbreaking moment for all the players as India were playing excellent cricket. We won seven matches in the league phase and to bow out like that was not good," said Bangar when talking on Star Sports.
"Players cried like kids. MS Dhoni was crying like children. Hardik Pandya and Rishabh Pant had tears in their eyes. Such stories remain in the dressing room," he added.
During an event in Bengaluru, a fan questioned former Indian captain Dhoni about players shedding tears after the 2019 semi-final loss. Dhoni explained that it's tough to control emotions in close games.
"It's difficult to control emotions when you lose close games. I keep my plans ready for every game and for me, it was the last game I played for India. I made the announcement a year later but that day, I retired. We were given some gadgets from the trainer and every time I went to him, I handed those gadgets back but he was like, 'No, no… just keep it." And I thought, how should I tell him that it wasn't needed anymore, because I didn't want to announce then," Dhoni said.
Q&A with @msdhoni

Question: Few days back Sanjay Bangar shared a tweet saying Dhoni, Rishabh and Hardik couldn't stop their tears. Is this true? pic.twitter.com/2Q9RQXz9Zb

— Yash Jadhav (@farzi_rtist) October 26, 2023
"When you are high on emotions and the only thing you have done in the last 12-15 years is playing cricket, and then there's no more chance of representing your country. It's a thing with sportspersons. So, once I quit cricket, there was no way I could be representing my country again and bring that glory back. So, you are high on emotions that time," he added.
Dhoni surprised the cricket world on August 15, 2020, by announcing his retirement via a social media post on Instagram. Despite this, he continued to play for the Chennai Super Kings in the Indian Premier League, securing two IPL titles in 2021 and 2023 after his international retirement.
Last Updated on October 27, 2023