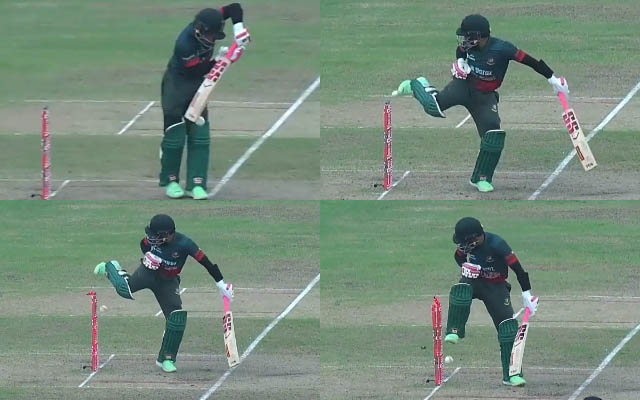 During the third ODI against New Zealand, Bangladesh's Mushfiqur Rahim's unique dismissal involved a football-style attempt to defend the ball, resulting in an unexpected trip back to the pavilion.
Cricket often witnesses unconventional dismissals, but Mushfiqur Rahim's recent predicament took an unexpected twist during the third ODI against New Zealand. Bangladesh, opting to bat first in their final ODI before the World Cup, encountered early turbulence, losing wickets rapidly to stand at 35/3. Mushfiqur Rahim, the new batter, shouldered the responsibility in this challenging scenario. He partnered with stand-in captain Najmul Hossain Shanto, constructing a vital 53-run alliance that was pivotal in stabilizing Bangladesh's innings.
Their partnership took an unexpected turn in the 16th over when Lockie Ferguson introduced a twist of fate for Rahim. Rahim, defending a shortish delivery with the back of his foot, unintentionally redirected the ball towards the stumps due to the slanted face of his bat.
In a hilarious sequence of events, Rahim found himself resorting to an unorthodox move – he twisted his leg, lifting it backward in a desperate attempt to kick the ball away. In a stroke of unfortunate luck, Rahim's effort narrowly missed its target, allowing the ball to sneak past his foot and dislodge the bails before Rahim's foot itself collided with the stumps.
This peculiar "kicking" move, reminiscent of a fancy football flick, has spread widespread amusement and laughter within the cricketing community on Twitter.
Watch the full video here:
Mushfiqur tries football to prevent getting bowled. Doesn't work 🫢
.
.#BANvNZ pic.twitter.com/K8wdWDnWAa

— FanCode (@FanCode) September 26, 2023
Last Updated on September 26, 2023