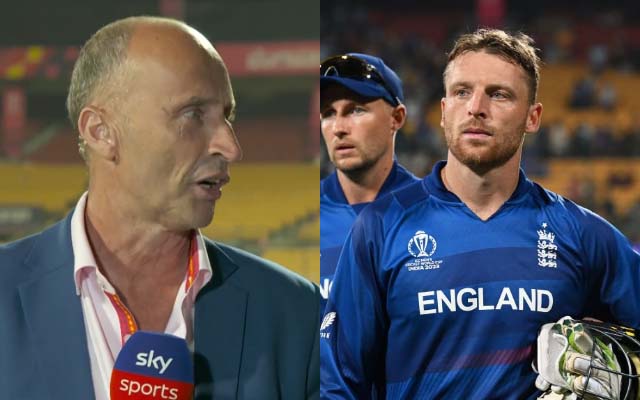 Former England captain Nasser Hussain criticized the inconsistency of England's World Cup 2023 performance and their habit of shifting blame to structural issues when faced with defeat.
In a scathing critique of England's World Cup 2023 performance , former captain Nasser Hussain addressed the team's inconsistent results and their tendency to blame structural issues for their failures. He questioned the logic of attributing success to the team's structure when it suits them, only to shift responsibility to structural flaws when they face challenges.
Hussain also highlighted the limited domestic cricket played by prominent players like Virat Kohli and Heinrich Klaasen, emphasizing that they rely on international T20 franchises for development.
"When they win the 50 over cricket or 20 over cricket, aren't they great? And when the wheels come off, it's the structure. How much 50-over cricket has Virat Kohli played? Or Heinrich Klaasen or anyone out here. They just don't play domestically, they learn from T20 Franchises around the world. It's such a lame excuse, blaming the structure. So when they mess up, they mess up. It's not the structure," said Hussain.
This criticism followed England's recent loss to Sri Lanka on October 26th, where they managed only 156 runs and were defeated by eight wickets with a substantial 146 balls remaining.
Nasser Hussain talking about England's lame excuse in this World Cup.

"Virat Kohli and Heinrich Klaasen haven't played 50 overs domestic cricket, they've learnt from T20 franchise cricket". pic.twitter.com/liPIiICXd3

— Mufaddal Vohra (@mufaddal_vohra) October 26, 2023
Opting to bat first, England's top six faltered within the initial 25 overs. Although they made a promising start, Sri Lanka's Angelo Mathews made a breakthrough in the seventh over, marking his first ODI wicket in over three years. Subsequently, Jonny Bairstow, Joe Root, and Jos Buttler were dismissed before the 16th over. In the 31st over, England was eventually bowled out for 156 in 33.2 overs.
In contrast, Sri Lanka lost their initial two wickets within the opening six overs. Yet, Sadeera Samarawickrama and Pathum Nissanka displayed resilience. Both notched up half-centuries, sealing England's fate. Nissanka's unbeaten 77 off 83 and Samarawickrama's 65 off 54 balls saw Sri Lanka secure a commanding eight-wicket victory with a staggering 146 balls to spare.
England now occupies the 9th position in the points table with just one win from 5 games in this tournament.
Last Updated on October 26, 2023