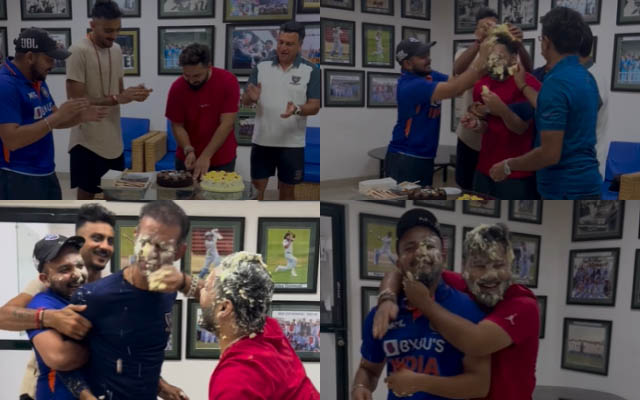 Celebrating his 26th birthday at the NCA, Rishabh Pant, along with fellow Indian cricketers Prithvi Shaw and Axar Patel, indulged in cake-smashing festivities.
Rishabh Pant kicked off his 26th birthday with a bang at the National Cricket Academy, where he's been on the mend since a December mishap left him nursing several injuries. Despite his time away from action, Pant has been hard at work, striving for a triumphant return under the vigilant gaze of NCA trainers.
On Tuesday, Pant celebrated his birthday by cutting cakes alongside Indian and Delhi Capitals cricketers Prithvi Shaw and Axar Patel, as well as a few NCA staff members, among whom was Nitin Patel, a former physiotherapist for Team India. Keeping in line with the tradition of Indian dressing room birthday celebrations, Axar and Prithvi did not forget to gleefully smudge cake all over Pant's face. The festivities were recorded and shared on Delhi Capitals' Instagram handle.
Watch the full video here:
While on track to recovery, Rishabh Pant has also delved into his advertising commitments. He recently starred in a Dream11 ad alongside World Cup-bound players Shubman Gill and Ishan Kishan. In the lead-up to his birthday, Pant was even spotted paying a visit to the Badrinath Temple.
The wicketkeeper-batsman is on track for an extended recovery period before rejoining the Indian cricket team. During his absence, KL Rahul and Ishan Kishan have been enlisted to strengthen India's wicketkeeping resources for the 2023 World Cup.
Last Updated on October 5, 2023