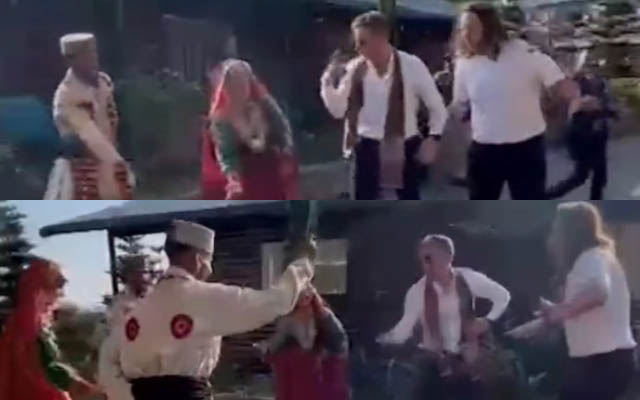 Ahead of their third match, the Netherlands cricket team fully immersed in the vibrant Himachali culture at Dharamsala, even joining local dancers for a 'Nati' performance.
The Netherlands cricket squad is gearing up for their third ICC ODI World Cup 2023 encounter with South Africa, slated for Tuesday, October 17, at Dharamsala's HPCA Stadium. With cricket fever sweeping Himachal Pradesh, the Dutch team is already on the scene, ready for action in this high-stakes match.
Upon their arrival in Dharamshala on October 11, the Dutch cricket team embraced the local culture, immersing themselves in Himachali traditions. Their fascination with Himachal's culture was evident as they joyfully participated in the traditional Nati folk dance alongside local artists.
A video posted by the HPCA Dharamshala Stadium showcased the Dutch players dancing to Himachali folk tunes. They also embarked on a culinary exploration of the region, savoring the local delicacies, truly becoming part of the vibrant Himachali culture.
Netherlands Cricketers embrace the Himachali Vibes at HPCA Dharamshala Stadium: Our beloved guests have been soaking in the rich Himachali culture during their visit to the picturesque HPCA Dharamshala Stadium. From savouring local cuisine to grooving to Folk Tunes.
#hpca pic.twitter.com/YRCI835hA7

— HPCA (@himachalcricket) October 12, 2023
In their initial encounter of the tournament, the Dutch team clashed with Babar Azam's formidable side, delivering a commendable performance but ultimately falling short against Pakistan. Subsequently, in their second match, the Netherlands faced off against the previous World Cup runners-up, New Zealand, enduring a substantial 99-run loss.
Despite these setbacks, it is noteworthy that their impressive showing during the Zimbabwe qualifiers had secured their spot in the World Cup.
As they advance, the Dutch team is now setting its sights on making an impact in their upcoming third match against the formidable South African side.
Last Updated on October 12, 2023