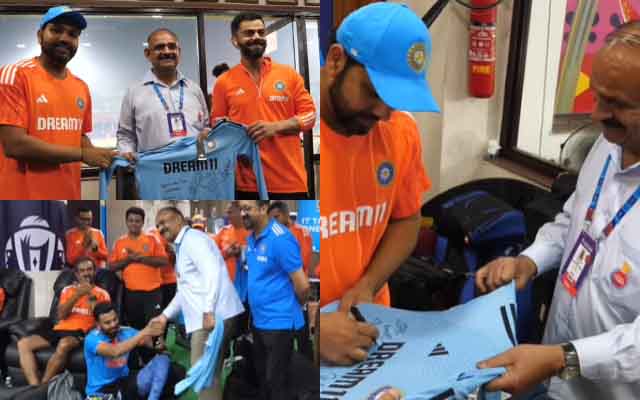 Team India's touching act of giving a signed jersey to Vinod Kumar, who worked as a DDCA dressing room attendant for four decades, warmed hearts as he bid farewell on his last workday.
The Indian cricket team celebrated the retirement of Delhi & District Cricket Association (DDCA) dressing room attendant Vinod Kumar, who devoted four decades to the role.
Coach Rahul Dravid expressed gratitude, while current captain Rohit Sharma and former captain Virat Kohli jointly presented him with a signed Indian jersey as a token of appreciation. Vinod Kumar was captured personally bidding farewell to each player and extending his best wishes to Rohit Sharma and team for their success in the ongoing World Cup.
The heartwarming video of the farewell was shared on the Indian cricket team's Instagram account, showcasing Kumar's heartfelt delight and the team's thoughtful gesture.
In the ongoing World Cup campaign, India has been in top form, clinching victories in both of their matches. Their impressive performance against Australia was followed by a stunning win over Afghanistan on October 11.
Skipper Rohit Sharma showcased his brilliance by hitting a century, setting quite a few records in the process. The bowling side excelled as well, with Jasprit Bumrah delivering a career-best performance, securing four wickets against Afghanistan.
The anticipation is building for their next clash with arch-rivals Pakistan, scheduled for October 14th in Ahmedabad, promising an intense clash.
Last Updated on October 12, 2023