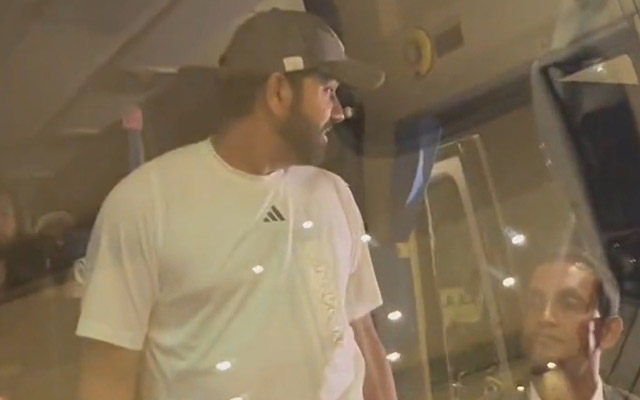 Rohit Sharma's memory slip-ups are all the rage these days. From the nail-biting decision of batting or fielding after the coin flip to the epic struggle of popping a bottle cap, it's the basics that elude him. Social media is having a ball with his memory mishaps!
In a recent comedy caper at the Asia Cup 2023, Captain Rohit, fresh off a victory against Sri Lanka, left his passport at the hotel just when the team was ready to say "Cheerio" to Colombo. Looks like even winning can't jog his memory!
A video of Rohit Sharma's eleventh-hour realization regarding his forgotten passport has sent netizens into fits of laughter. This viral clip showcases Rohit's teammates on the bus, playfully ribbing their captain. With a sheepish grin, Rohit had to rely on a support staff member to rescue his passport.
It's hard not to recall Virat Kohli's hilarious take on Rohit Sharma's forgetfulness from their chat on 'Breakfast with Champions.' Kohli spilled the beans, saying, "The number of things Rohit Sharma forgets; I have never seen anyone else so forgetful. iPad, wallet, phone, not the small things, but daily use essentials. I don't care, I'll get a new one. he has no idea he's left something, the bus would have traveled halfway to the hotel and then he remembers 'Oh, I left my iPad on the plane'."
Online comments flooded in, with fans teasingly attributing his forgetfulness. One humorously remarked, "Asia Cup Yaad Karke Le Liya... That's all that counts!"
India had earlier secured their eighth Asia Cup triumph with a dominant ten-wicket victory over Sri Lanka in the final at Colombo's R. Premadasa Stadium on Sunday, September 17.
After Sri Lanka's skipper Dasun Shanaka opted to bat first, his team crumbled to a mere 50 runs, their second-lowest ODI total. Mohammed Siraj was the star, claiming a career-best 6/21 in seven overs. In response, India confidently chased down the target in just 6.1 overs, marking their most extensive win in terms of balls remaining, a staggering 263 balls. Ishan Kishan (23* off 18) and Shubman Gill (27* off 19) led the charge.
Last Updated on September 18, 2023