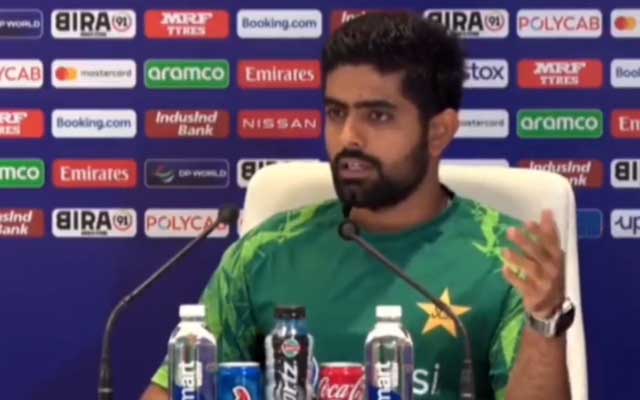 Facing criticism amid Pakistan's World Cup woes, Babar Azam fired back at TV pundits, stating it's easy to give advice from a studio, following his team's challenging campaign.
As Pakistan faces a challenging scenario in the ICC World Cup 2023, Captain Babar Azam slammed the TV pundits advising him on captaincy pressures a day before their crucial match against England in Kolkata. Despite a turbulent tournament with initial victories and subsequent losses, Pakistan's slim chance for the semi-finals became nearly impossible after New Zealand's recent victory. To qualify, Pakistan must beat England by an extraordinary margin of 287 runs or more, setting up a high-stakes clash in Kolkata on Saturday.
Facing criticism from ex-captains including Wasim Akram, Moin Khan, Shoaib Malik, and Misbah-ul-Haq, Babar defended his captaincy, asserting he's never felt the pressure despite captaining for years.
"I have been captaining my team for the last three years and I have never felt this way. It's just because I have not performed the way I should have in the World Cup, that's why people are saying that I am under pressure. I am under no pressure," Babar said.
Responding to Shoaib Malik's claim about fostering a culture of friendships, the skipper stated his openness to advice and encouraged critics to message him.
"Everyone has their point of view and their own way of thinking. Everyone is saying something different. He should be like this, or like that. If someone has to give me advice, everyone has my number. It is easy to advise on TV. If you want to give me some advice, you can message me", he added.
Babar spitting facts & showed them their faces.

Unfortunately our ex cricketers bs baten karty on tv against him pic.twitter.com/Jf3oFML0yc

— Ibrahim🇵🇰 (@Ibro___56) November 10, 2023
Babar also highlighted his focus on fielding, run-making, and team success. Regarding captaincy discussions, he deferred decisions until after the tournament, redirecting focus to the upcoming match.
"About the captaincy – as I said, once we go back to Pakistan or after this match, we will see what happens. But right now, I am not focusing on this, my focus is on the next match," he concluded.
Last Updated on November 10, 2023