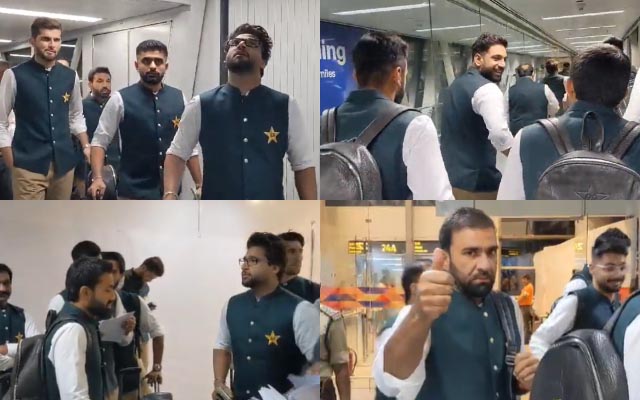 After a seven-year gap, the Pakistan men's cricket team has touched down in Hyderabad for the 2023 ODI World Cup, marking their return to India since their last appearance in the 2016 T20 World Cup.
Led by Babar Azam, the Pakistan cricket team made their long-awaited arrival in India on September 27, ending a seven-year absence since their last visit in 2016 for the T20 World Cup. Most of the Pakistani players have not previously experienced cricket in India, presenting a significant test of both skill and mental fortitude as they prepare to compete in the ODI World Cup.
Pakistan's journey to India took them through Dubai and they landed in Hyderabad, where they are scheduled to play their initial two ODI World Cup matches against the Netherlands and Sri Lanka. The highlight of their campaign is the highly anticipated clash against India at the Narendra Modi Stadium in Ahmedabad on October 14.
Their warm-up matches include encounters with New Zealand on September 29 and Australia on October 3, with their inaugural World Cup match against the Netherlands slated for October 6.
#WATCH | Telangana: Pakistan Cricket team arrives at Hyderabad airport, ahead of the tournament scheduled to be held between October 5 to November 19, in India. pic.twitter.com/jiOn4MWxgl

— ANI (@ANI) September 27, 2023
In contrast to the Indian team's extensive travel to nine destinations for their group matches, Pakistan faces a less difficult journey, with games scheduled in Hyderabad, Bengaluru, Ahmedabad, Chennai, and Kolkata in the World Cup.
However, the Pakistani squad encountered visa-related hurdles that disrupted their tournament preparations. The Pakistan Cricket Board (PCB) had raised concerns with the ICC due to the delayed visa approval, which was eventually granted on September 25, just two days before their departure for their initial warm-up match against New Zealand in Hyderabad.
Pakistan team in Hyderabad, India. The video is here 🇵🇰💚💚💚💚 #CWC23 #WorldCup2023

– via PCB pic.twitter.com/eKOIGpy25x

— Farid Khan (@_FaridKhan) September 27, 2023
Despite being the top-ranked ODI team, Pakistan's surprising exit from the Asia Cup Super 4s, with losses to India and Sri Lanka, has heightened anticipation in the cricketing world for their performance in the ICC Men's Cricket World Cup 2023.
Last Updated on September 27, 2023