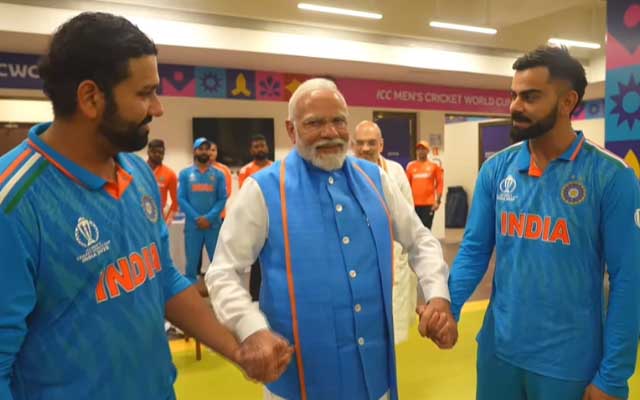 Following India's defeat in the ICC Cricket World Cup final against Australia, Prime Minister Narendra Modi visited the Indian cricketers in their dressing room, offering consolation to players.
After India's heartbreaking loss in the ICC Cricket World Cup final, Prime Minister Narendra Modi visited the team in their dressing room. He met with Rohit Sharma, Virat Kohli, coach Rahul Dravid, and other players to offer his support. Modi encouraged the dejected players, acknowledging their impressive streak of winning 10 consecutive matches. In a light-hearted moment, he joked with Jasprit Bumrah about speaking Gujarati.
Modi also praised Mohammed Shami, the tournament's top wicket-taker, and motivated the team. Additionally, he invited the players to meet him in Delhi at their convenience, aiming to uplift their spirits after the tough defeat.
India entered the ODI World Cup final for the fourth time in history as favorites, boasting an impressive tournament journey. Starting with a strong victory over Australia, they conquered every opponent, securing a spot in the semi-finals after defeating New Zealand in a high-scoring encounter. However, their aspirations were quashed by Australia in the final, held on a challenging pitch in Ahmedabad.
Kohli's remarkable 765 runs and Shami's 24 wickets highlighted their stellar performances. This marks the second instance of India falling to Australia in an ODI World Cup final.
Now, shifting gears to T20Is, India has announced a 15-member squad, led by Suryakumar Yadav, for the upcoming five-match series against Australia, commencing on November 23rd.
Last Updated on November 21, 2023