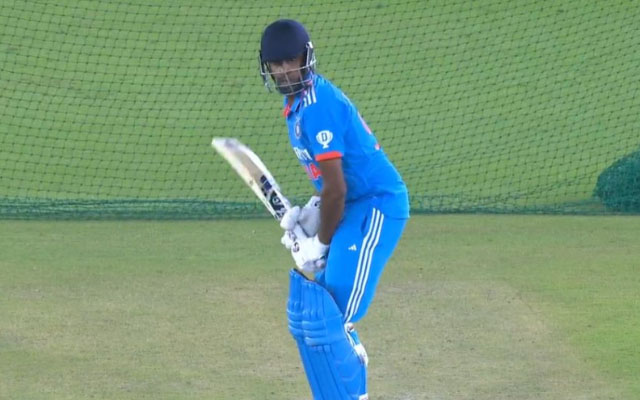 After India's win over Australia in Mohali, R Ashwin's late-night batting practice session reflected his determination to secure a last-minute entry into India's ODI World Cup squad.
Ravichandran Ashwin's pursuit of a spot in India's 2023 ODI World Cup squad is evident in his unwavering determination. With the prestigious event looming just days away, he is leaving no opportunity unexplored.
After India's thrilling five-wicket victory over Australia in Mohali, Ashwin displayed an unwavering determination by coaxing India's head coach, Rahul Dravid, onto the pitch for a late-night batting practice session. It was a bold move, especially with the punishing weather and just a day's break before the next match. While most players opted for rest, Ashwin, fully geared up, honed his shots under the floodlights. Even seasoned broadcasters like Abhishek Nayar and Mark Waugh were taken aback by his unwavering commitment.
Looks like Ashwin is a man on a mission, and he's making every moment count!
September 22, 2023
"How cool is that? "He is batting right in the centre, he's got a net out. And that's where the support staff really works hard. It's past 10, it's late and they are still going. He's got Rahul Dravid at square leg, Vikram Rathour at slips, Mark Waugh at fine leg, so it's a terrific part of the preparation. I'm sure the management has told him to work on his batting," said Abhishek Nayar.
Ashwin initially missed out on a spot in India's 15-man World Cup squad, but a recent injury to Axar Patel has opened the door to a potential vacancy. If Axar doesn't recover in time for the tournament, Ashwin is now a top contender for the replacement spot. Captain Rohit Sharma has strongly endorsed the veteran, despite Ashwin's last ODI appearance dating back to January 2022.
In an interview with bcci.tv, Ashwin acknowledged the significance of the Australia ODIs. He also expressed his excitement about the opportunity, emphasizing his approach to these chances in the past few years.
"It's a great opportunity for me. I have always said over the last 3-4 years that it's not about what I want to achieve in these opportunities. I just want to enjoy myself, give myself the best chance. When I went back from West Indies, I took a break, played a few club games. The team management has kept me in loop and told me to just stay ready whenever there is a chance. I was just touching base with my fitness. Started bowling a few sessions," Ashwin said.
He's striving to push his limits, prioritizing his performance and showcasing his talent and abilities with pride.
"I want to bring something different to the table so I have been working on some angles because one-day cricket is not just about spin anymore. It's more about the angles, the usage of the crease, its depth. I'm trying to put myself in a zone of discomfort, to try and push barriers as always because for me what comes first is the pride of my performance and what best abilities and talent I can showcase," he added.
Last Updated on September 23, 2023