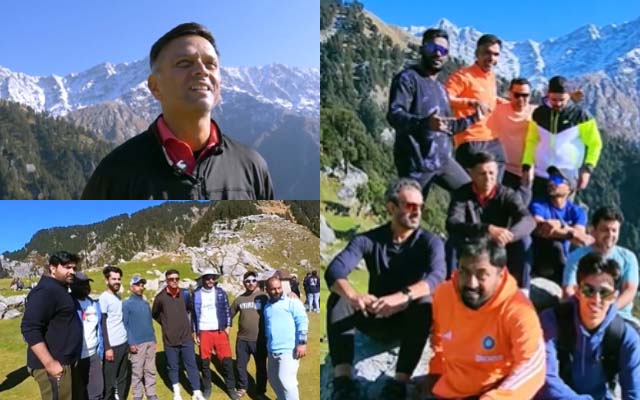 Rahul Dravid and the coaching staff trekked Triund in Dharamsala, sharing a loved video on social media, while players stayed at the hotel, before their match against England in Lucknow.
After a historic victory over New Zealand, the Indian cricket team decided to extend their stay in Dharamsala before their upcoming match against England in Lucknow. During this break, the support staff enjoyed a day off to explore the scenic beauty of Himachal Pradesh's charming city. Notably, Rahul Dravid and his team embarked on a challenging yet thrilling Triund trek in Dharamsala, while BCCI shared an adored video of the adventure on social media.
A day off for the squad is a day well spent in the hills for the support staff 🏔️

Dharamsala done ✅

💙 Taking some positive vibes to Lucknow next #TeamIndia | #CWC23 | #MenInBlue | #INDvENG pic.twitter.com/g0drFKacT4

— BCCI (@BCCI) October 25, 2023
In the video, Dravid expressed his awe at the challenging yet stunning Triund trek, noting the difficulty of the climb and the incredible vistas. He regretted that it was too risky for the players to attempt due to the rocky terrain. However, the head coach expressed a desire to bring the players there when they have free time.
"Once you come here, the views are breathtaking, spectacular. It's incredible for the support staff to be able to come here. Just a great day out as well. Unfortunately, can't bring the boys up here, a bit too risky walking on those stones. But hopefully, one day when they are not playing, I would love for some of the boys to come here and experience this," said Dravid.
Batting coach Vikram Rathour described the trek's difficulty, mentioning the tough last half-hour ascent but highlighting that the breathtaking scenery made it all worthwhile, starting from Galu, a location beyond McLeod Ganj.
In the 2023 World Cup, India stands out as the only team to have competed at every tournament venue. Following their 4-wicket victory over New Zealand in Dharamsala, they're set to face defending champions England in Lucknow.
Last Updated on October 25, 2023