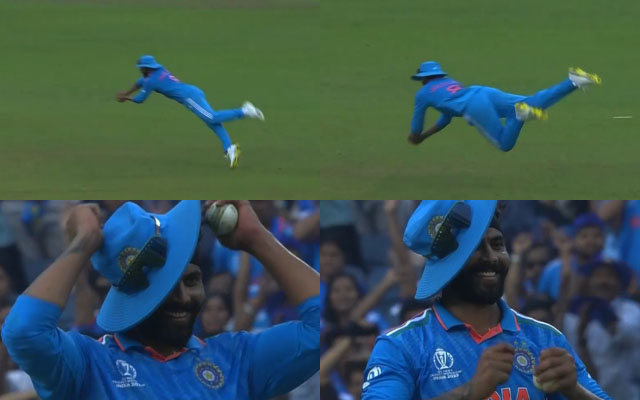 Ravindra Jadeja celebrated with a unique medal gesture after taking a remarkable catch to dismiss Bangladesh's Mushfiqur Rahim in the ongoing India vs. Bangladesh match.
In a display of fielding prowess, India's versatile all-rounder, Ravindra Jadeja took a remarkable catch that dismissed Bangladesh's Mushfiqur Rahim during the ongoing India vs. Bangladesh match in Pune. The pivotal wicket was secured by Jasprit Bumrah with a brilliant delivery, catching Mushfiqur Rahim by surprise. The ball, pitched slightly short of a length and outside off, was delivered at a slower pace. Mushfiqur Rahim attempted to cut it expansively but sent the ball flying uppishly and wide of the point fielder. Jadeja leaped to his right in a Superman-like effort, clutching the catch with both hands.
Following the catch, Jadeja playfully imitated wearing a medal toward India's fielding coach T Dilip, seemingly referencing India's tradition of awarding medals for outstanding performances and humorously suggesting he deserves the next one.
On the match front, India has steadily reduced Bangladesh to their final four wickets, with the opposition's last recognized pair, Mahmudullah, and Mushfiqur Rahim, dismissed by a remarkable piece of fielding by Ravindra Jadeja. This accomplishment means that every Indian bowler has taken wickets, except Hardik Pandya and Virat Kohli, who bowled only 6 deliveries.
Initially, Tanzid Hasan and Litton Das provided a strong start for Bangladesh with brilliant half-centuries. However, Kuldeep Yadav dismissed Hasan, giving India a much-needed breakthrough. Subsequently, the Indian team capitalized on this triumph by securing more rapid dismissals.
Last Updated on October 19, 2023