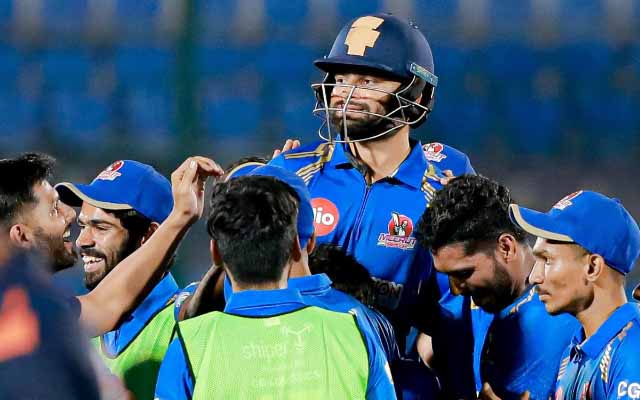 Rinku Singh's extraordinary display of six-hitting prowess in a Super Over propelled the Meerut Mavericks to victory against the Kashi Rudras, as he clinched the win with a hat-trick of sixes off bowler Shiva Singh.
In a thrilling T20 league encounter in Uttar Pradesh, Rinku Singh showcased his formidable power-hitting skills, launching three consecutive sixes to secure a dramatic victory for the Meerut Mavericks against the Kashi Rudras in a Super Over showdown. With 17 runs required for victory in the Super Over, Meerut entrusted Rinku and Divyansh Joshi to chase down the target.
Although Rinku was unable to score on the first delivery, he promptly dispatched the next three deliveries over the boundary ropes. His sixes sailed over long-off, mid-wicket and once again long-off, sealing the match in a spectacular fashion.
Palak na jhapke 😴 nahin toh miss hojayenge #RinkuSingh 🔥 ke zabardast 6⃣6⃣6⃣#AbMachegaBawaal #JioUPT20 #UPT20onJioCinema pic.twitter.com/vrZuMqPn9D

— JioCinema (@JioCinema) August 31, 2023
Madhav Kaushik's commanding 87-run innings propelled Meerut to a total of 181/4 after winning the toss and choosing to bat. In response, Kashi Rudras saw Karan Sharma (58) and Shivam Bansal (57) crafting vital half-centuries to match the score. The contest escalated to a thrilling super over, with Yogendra Doyal and Karan Sharma representing Kashi, posting 16 runs despite losing Sharma's wicket. Unfortunately for them, spinner Shiva Singh struggled to defend the target against IPL stalwart Rinku Singh.
Although Rinku had a lackluster performance in the initial innings, scoring 15 runs off 22 balls, he made amends later.
This wasn't the first instance of Rinku's six-hitting prowess; in this year's IPL, he illuminated the stage with five consecutive sixes in the final over of a league match, leading the Kolkata Knight Riders to a victory over the Gujarat Titans.
Rinku's entrance into international cricket was also memorable, earning him the Player of the Match accolade.
WATCH | India vs. Ireland 2nd T20I: Rinku Singh Announces Arrival with Dynamic 38-Run Blitz in Dublin
In the second T20I against Ireland, he entertained with a 38-run innings that played a significant role in India securing the series victory.
Last Updated on September 1, 2023