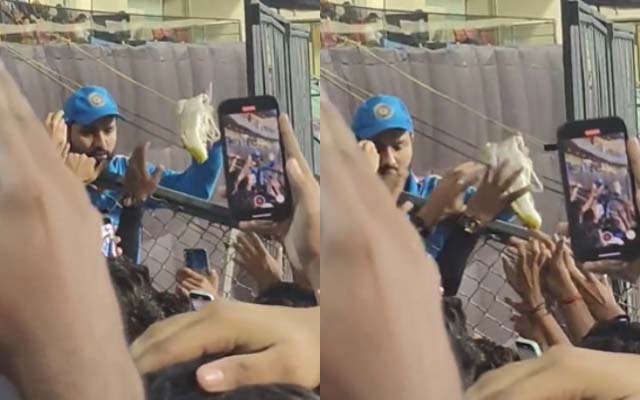 Indian captain Rohit Sharma's heartwarming gesture of gifting a shoe to an ecstatic fan touched the hearts of the crowd as they cheered him on while he left the field.
In the ongoing ODI World Cup 2023, India's remarkable journey continued with a spectacular 302-run victory over Sri Lanka at Mumbai's iconic Wankhede Stadium on Thursday, November 2.
However, the post-match moment that truly stole the spotlight was when Indian captain Rohit Sharma displayed an exceptional act of kindness. A video, widely shared on social media by @SameerAllana on Twitter, captured the heartwarming scene as Rohit Sharma generously gifted a shoe to a kid in the MCA Stand. As he exited the field, enthusiastic crowds of fans enthusiastically captured this touching gesture with photographs and cheers, underscoring the captain's popularity.
India's undefeated record of 7-0 has secured their place in the semi-finals, making them the first team to achieve this feat. Notable half-centuries from Virat Kohli, Shubman Gill, and Shreyas Iyer propelled India to a commanding total of 357/8.
Their bowlers, led by Mohammed Siraj and Mohammed Shami, efficiently dismantled Sri Lanka's innings, ending the match in just 19.4 overs. Shami's five-wicket haul, achieved in a mere five overs, was complemented by Siraj's three wickets. Jasprit Bumrah and Ravindra Jadeja also chipped in with a wicket each as Sri Lanka struggled, ultimately getting dismissed for a mere 55 runs.
Sri Lanka had five batters dismissed for ducks, with the highest individual score being just 14, contributed by their number 10 batter, Kasun Rajitha.
Last Updated on November 3, 2023