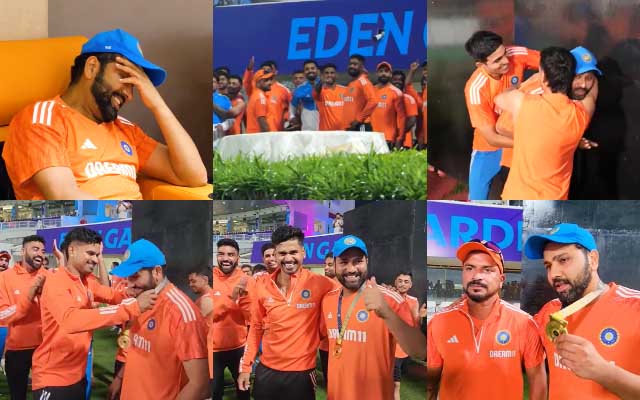 Rohit Sharma secured the Best-Fielder Medal after India's commanding 302-run victory against South Africa with a special reveal featuring a buggy cam at Eden Gardens.
After India's massive 302-run win over South Africa at Kolkata's Eden Gardens on November 5th, a new recipient claimed the prized best-fielder medal in the dressing room for exceptional fielding. Shreyas Iyer, Virat Kohli, and Ravindra Jadeja had previously dominated this medal, but the latest addition is none other than the Indian skipper, Rohit Sharma.
The shortlisted nominees included KL Rahul, Suryakumar Yadav, Ravindra Jadeja, and Rohit himself. It was Rohit's impeccable field positioning that got him the medal, with coach T. Dilip calling him "the professor".
In a unique reveal, a buggy cam arrived on the scene with Rahul, Jadeja, Suryakumar Yadav, and Rohit encircling it. The camera's lens eventually focused on the skipper, and the previous medal recipient, Shreyas Iyer, bestowed the medal around Rohit's neck.
On the match front, South Africa was left reeling at a mere 83 runs in 27.1 overs, solidifying India's top position. Kohli's achievement of matching Tendulkar's record, eagerly anticipated by the crowd, took center stage.
In the bowling attack, Ravindra Jadeja stole the limelight with an impressive 5/33. India had set a target of 327, led by Kohli's unbeaten 101 off 121 balls, Shreyas Iyer's fluent 77 off 87 balls, and a late fireworks display by Suryakumar Yadav and Jadeja. Rohit also played an important role with his brisk 40 off 24 balls, immediately putting South Africa on the defensive with his aggressive intent.
When it was South Africa's turn to bat, the pitch conditions remained consistent, but India's bowling prowess remained unmatched.
Last Updated on November 6, 2023