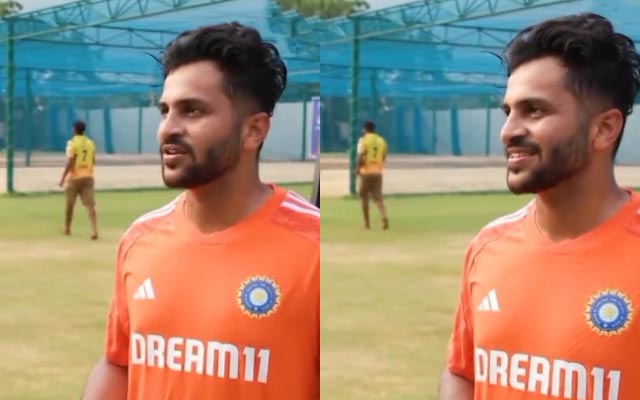 When Ian Bishop sought Shardul's advice on mastering wobble-seam or scrambled seam bowling, the 31-year-old Indian all-rounder's witty reply swiftly became viral on social media.
Indian cricket players' honest replies often break the internet. One such incident unfolded today in a conversation between Indian all-rounder Shardul Thakur and Ian Bishop.
The former West Indies cricket legend Ian Bishop chose to have a chat with Shardul Thakur during the practice session as the Indian players were making final preparations before their match against Australia at Chepauk, Chennai.
Bishop asked Shardul for guidance on executing wobble-seam or scrambled seam bowling. However, the 31-year-old Indian all-rounder provided a humorous response that quickly is going viral on social media platforms. He jokingly admitted that he doesn't know how to execute such a technique; he simply bowls and entrusts it entirely to God.
With a small grin on his face, the Palghar Express said, "I don't know. I just hold it like this (showing the ball holding on seam position) and bowl it. Don't do much. Happened whatever happens. After pitching what's going to happen, even I don't know. So, batsmen always guessing, I'm always guessing. So probably leave it to the hands of God."
lord things🙏💪 pic.twitter.com/hD3qDrFuhp

— ananya (@dr3sque) October 8, 2023
Shardul has an impressive record with 63 wickets from 44 matches in his basket. With his strong performance in the previous series against Australia and his batting skills, he had an opportunity to move up from the 15-player squad to the final playing eleven. But with the inclusion of three spinners in the playing XI against Australia, Shardul eventually got benched.
Last Updated on October 8, 2023