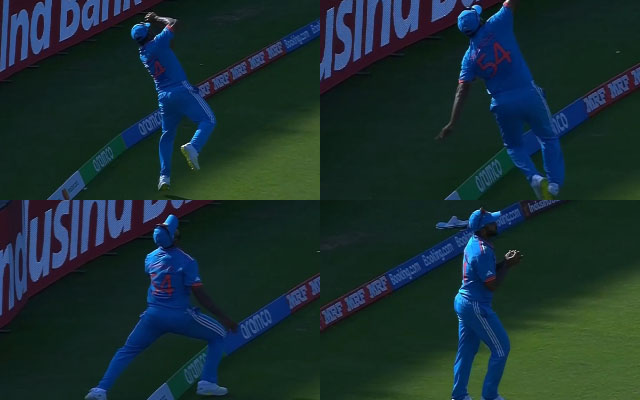 In the ongoing India vs. Afghanistan World Cup match, Shardul Thakur's stunning juggling catch at the boundary resulted in the dismissal of Afganisthan's Rahmanullah Gurbaz.
In the 9th match of the ICC World Cup 2023 held at Delhi's Arun Jaitley Stadium, Indian all-rounder Shardul Thakur displayed remarkable fielding skills during the 13th over when Hardik Pandya bowled a fast, short bouncer.
Afghanistan, batting first, made a decent start with Gurbaz and Ibrahim Zadran playing well. Jasprit Bumrah took the first wicket by dismissing Zadran, but Gurbaz and Rahmat Shah collaborated effectively, rescuing their team and adding crucial runs.
As Afghanistan appeared to be building a formidable score, Hardik Pandya delivered a skillful bouncer. Gurbaz tried to play a powerful pull shot but struggled to time it due to the extra pace. Even so, the ball was on its way over the boundary when Shardul Thakur made a crucial interception. Shardul initially caught the ball but, realizing he was close to the boundary, smartly flicked it back into the field of play. He promptly returned and managed to complete the catch on the second try, preventing what seemed like a certain six and giving India a crucial breakthrough.
Rahmanullah Gurbaz made a promising start for Afghanistan but couldn't capitalize, scoring 21 runs from 28 balls before getting dismissed, leaving Afghanistan at 63/2.
Later in the game, Shardul continued to excel, contributing with the ball by trapping Rahmat Shah in an LBW dismissal. His fuller delivery aimed at the middle and leg stump found Shah attempting a defensive shot, but he missed, leading to the ball angling back in, impacting both front and back pads. While Shah opted for a review, it upheld the umpire's call, resulting in his departure after a 16-run contribution from 22 balls.
Last Updated on October 11, 2023