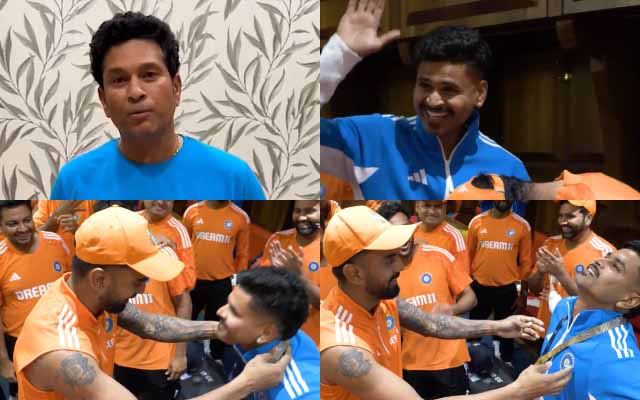 In India's dressing room medal ceremony announced by cricket legend Sachin Tendulkar, Shreyas Iyer was recognized as the standout fielder in India's resounding 302-run victory over Sri Lanka in Mumbai.
The highly anticipated medal ceremony within the Indian dressing room reached iconic status following India's dominant performance against Sri Lanka at the Wankhede stadium in Mumbai. The legendary Sachin Tendulkar took the honor of announcing the recipient of the special medal. The contenders for this medal included KL Rahul, Shreyas Iyer, and Ravindra Jadeja.
Shreyas Iyer clinched his second gold medal for being recognized as India's finest fielder in the match against Sri Lanka. Iyer's exceptional slip catch of Sadeera Samarawickrama off a delivery by Mohammed Siraj, along with his dismissal of Lanka's final batsman, Dilshan Madushanka, on Ravindra Jadeja's delivery, secured his victory.
Sachin Tendulkar not only declared Iyer's name but also commended the team for their distinctive style of cricket, encouraging them to maintain their high energy and dedication to the country. Now, KL Rahul and Shreyas Iyer have each earned the medal twice, while Virat Kohli, Ravindra Jadeja, and Shardul Thakur have claimed it once.
Sri Lanka's hopes of advancing to the World Cup knockout stage are severely diminished as Kusal Mendis's team suffered their fifth defeat in seven matches. Their chase began terribly, with Jasprit Bumrah and Mohammed Siraj taking early wickets, reducing them to four for three runs. Mohammed Shami then joined the attack, securing a five-wicket haul as Sri Lanka was bowled out for just 55, their lowest World Cup total.
In India's innings, Virat Kohli and Shubman Gill played crucial roles, with both scoring fifties and contributing to a total of 357 for eight. Despite dismissals of Kohli and Gill by Dilshan Madushanka, Shreyas Iyer's explosive 82 off 56 balls provided a late flourish. Sri Lanka had a hopeful start when Madushanka dismissed Rohit Sharma early, but India's strong batting display proved too much. Kohli scored 88, and Gill contributed 92 runs.
Last Updated on November 3, 2023