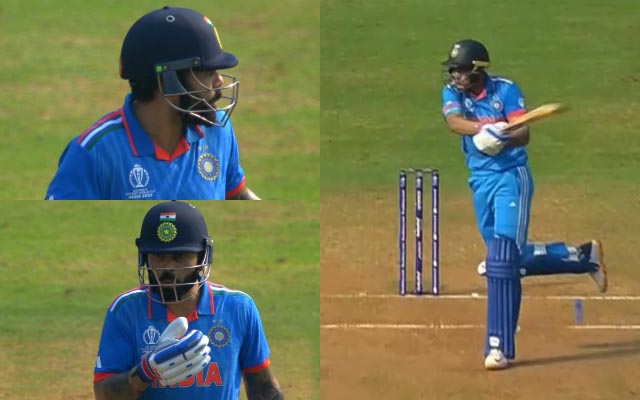 In the ongoing India vs. Sri Lanka match, Shubman Gill's impressive boundary off Dilshan Madushanka left fans and Virat Kohli in sheer astonishment.
In the 15th over of the India vs. Sri Lanka match on November 2, a moment of sheer brilliance unfolded at Mumbai's iconic Wankhede Stadium. The innings began with a twist for the Indian team as they lost Rohit Sharma early. Shubman Gill, who had struggled to find his rhythm in the 2023 World Cup, made a remarkable comeback against Sri Lanka, leaving fans and critics alike in awe. Virat Kohli, on the other hand, had been in sublime form throughout the World Cup.
As the game progressed, Kohli and Gill became the driving force for India. The duo managed to stabilize India's position, keeping the run flow steady and putting up an impressive 60 runs on the board during the first powerplay.
However, it was Gill's boundary off Dilshan Madushanka that stole the spotlight, leaving not only the fans but also Kohli himself in sheer astonishment at the young batter's talent. The official International Cricket Council's (ICC) Instagram page captured Virat Kohli's expression of amusement as he watched the ball sail toward the boundary.
The Indian team put up a formidable total of 357/8 after 50 overs, thanks to half-centuries by Virat Kohli, Shubman Gill, and Shreyas Iyer. Early in the match, Rohit Sharma was dismissed by Dilshan Madushanka in the very first over, and Madushanka eventually took five wickets. However, Kohli and Gill went on to create a remarkable partnership, accumulating 189 runs. Madushanka finally broke their stand, preventing both batsmen from reaching a century. This gave Sri Lanka a foothold, and they further capitalized by taking the wickets of KL Rahul and Suryakumar Yadav. Nonetheless, Shreyas Iyer's explosive 82 off 56 balls ensured India's score crossed the 300-run mark. In the end, Ravindra Jadeja's powerful hits pushed the total beyond 350.
Last Updated on November 2, 2023