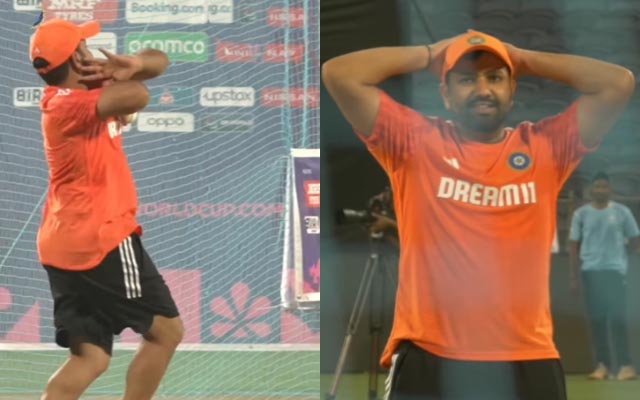 Ahead of the match against Bangladesh, Rohit Sharma stunned fans and cricket enthusiasts by participating in a net practice session, displaying his bowling skills and seeking advice from R Ashwin.
One notable vulnerability in the Indian cricket team has been the absence of top-order batsmen who can contribute as bowlers. This issue was first raised by former Indian cricketer and 2011 World Cup hero, Gautam Gambhir, who emphasized that, apart from himself and MS Dhoni, all the top seven batters in the 2011 squad had the ability to bowl if needed.
This observation sparked a playful reaction from fans on the social media platform X, as they took note of Rohit Sharma practicing his bowling in the nets before the 2023 World Cup match against Bangladesh. In response to this evident gap in the team, the Indian captain seemed to have taken it upon himself to address the matter.
Ahead of the highly anticipated clash, Rohit surprised fans and the cricket fraternity by participating in a net practice session. In a video circulating on social media, the 36-year-old cricket star was seen rolling his arm over during a practice session that took place on Tuesday, October 17. Interestingly, he was also seen seeking advice from veteran Indian bowler R Ashwin as he honed his bowling skills in the practice session.
This unexpected move has piqued the interest of cricket enthusiasts, as Rohit, known for his exceptional batting skills, hasn't bowled in a match since March 2015 when he faced Ireland. During his bowling appearances in ODIs, Rohit has managed to claim eight wickets, maintaining an economy rate of 5.21. Notably, he also achieved a hat-trick in the Indian Premier League (IPL) while playing for the Deccan Chargers (now Sunrisers Hyderabad) in 2009, where he dismissed Abhishek Nayar, Harbhajan Singh, and JP Duminy.
During a press conference ahead of the Asia Cup, Rohit was asked about the 2011 World Cup squad having more all-round options compared to the 2023 team. In response, Sharma expressed humorously that both himself and Virat Kohli could contribute with their bowling skills in the upcoming World Cup.
Rohit also acknowledged that he had refrained from bowling due to a finger injury, as he did not want it to impact his batting performance. In his words, "I have problems with my finger while bowling. I don't want my batting affected because of it. I am bowling in the nets, and let's see."
Last Updated on October 18, 2023