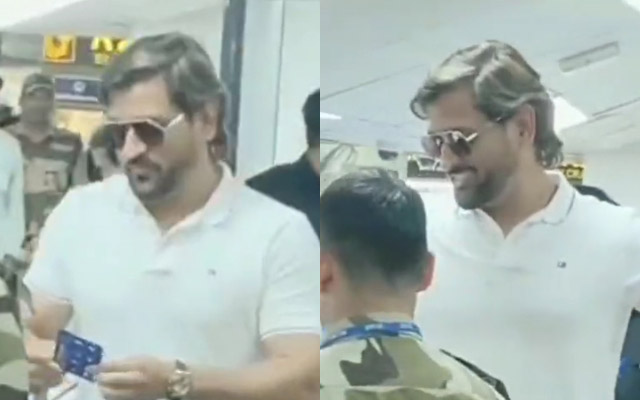 A video capturing MS Dhoni during airport security check is creating waves on social media, where a fan's heartfelt declaration of "Mahi Bhai, I Love You" brought a smile to his face as he passed through.
In a country overflowing with MS Dhoni fans, it's clear that the former Indian cricket captain's charisma knows no bounds. Even though he bid farewell to international cricket back in 2020, his presence remains an indomitable force in the Indian Premier League (IPL). Dhoni himself, however, prefers to operate away from the spotlight, relishing his privacy.
So, when any content related to the legendary skipper surfaces on the ever-vibrant social media platform X, it's bound to create waves of excitement among fans.
One recent video, in particular, has taken the platform by storm. It captures a heartwarming moment at an airport security check where a devoted fan couldn't contain his adoration for Dhoni.
In the footage, we catch a glimpse of Dhoni sporting a classic white polo shirt paired effortlessly with sleek black denim jeans, accentuated by his uber-cool black sunglasses. Evidently, even airport security couldn't dim his undeniable style.
As Dhoni passed through security, a passionate shout of "Mahi bhai, I love you" pierced through the hustle and bustle. Initially, the Chennai Super Kings captain remained unfazed. But our fan wasn't ready to throw in the towel; he raised his voice once more.
Dhoni, standing right next to the metal detector, broke into a radiant smile. And just when we thought it couldn't get any better, our seemingly ecstatic fan left us all chuckling with his declaration, "Haanth kaanp rahe hain mera ekdum (My hands are shaking)."
Fan : Mahi bhai I love you ❤
Thala : Smiles 😁@msdhoni #MSDhoni pic.twitter.com/W6SXlb6E1r

— FAN🚩 (@KattarDhoni) September 29, 2023
Dhoni, after his illustrious international career, led CSK to victory in the IPL twice, in 2021 and 2023, adding to his impressive tally of five IPL trophies. He shares the distinction of being the most successful IPL captain with Rohit Sharma of the Mumbai Indians.
Despite a knee injury during the entire 2023 IPL campaign, Dhoni's unwavering commitment saw him lead from behind the stumps. Post-IPL, he promptly underwent surgery in Mumbai to address his knee issue and is now all set to chase another IPL title at the age of 42.
Last Updated on October 1, 2023