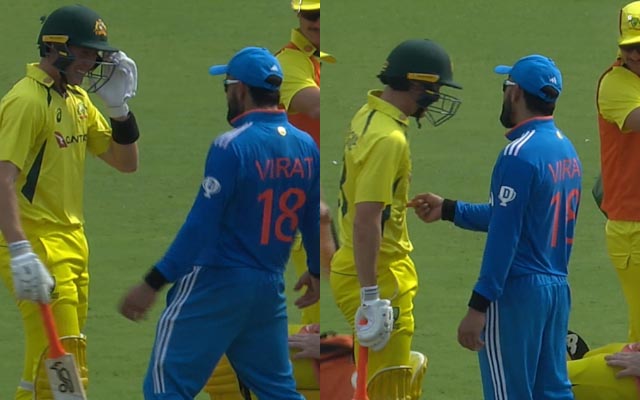 At the India vs. Australia tea break, Virat Kohli was spotted dancing in front of Marnus Labuschagne, while Steve Smith rested with an ice pack, leaving everyone smiling.
In the ongoing third and final ODI at Rajkot's Saurashtra Cricket Association stadium on September 27, 2023, India lead the series 2-0 after winning the first two ODIs.
Following Marsh's dismissal, Australian reserve players emerged onto the field, bearing refreshments and a chair for the visibly fatigued Steve Smith, who appeared drained by Rajkot's scorching heat. One compassionate teammate even held an ice pack aloft, granting Smith some respite as he reclined.
Meanwhile, Virat Kohli engaged Marnus Labuschagne in a friendly chat, spicing it up with an impromptu dance performance that drew a grin from Labuschagne. This light-hearted spectacle, featuring Kohli's ease and Smith's royal treatment amidst the heat sparked a flurry of jovial reactions among cricket enthusiasts on social media.
Australia, winning the toss, opted to bat with Pat Cummins as captain. The Australian XI featured Mitchell Starc, Glenn Maxwell, and Tanveer Sangha. India welcomed back Rohit Sharma, Virat Kohli, Mohammed Siraj and Kuldeep Yadav, with Washington Sundar replacing R Ashwin.
David Warner contributed 56 runs, partnering with Mitchell Marsh for 78 runs in 8.1 overs. Marsh dominated with 96 runs off 84 balls, including 13 fours and 3 sixes, forming a 137-run partnership with Steve Smith for the second wicket.
Last Updated on September 27, 2023