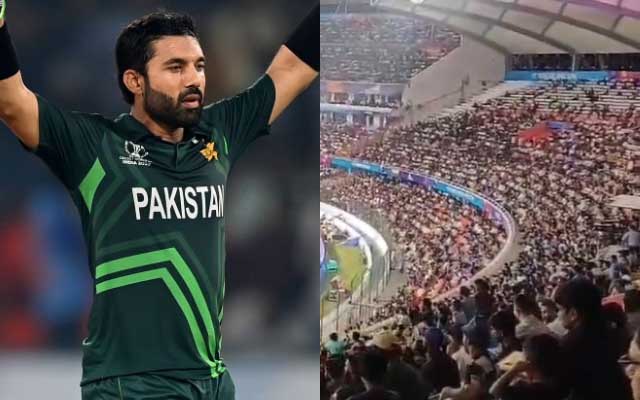 The 'Pakistan Jeetega' chants at the ICC World Cup 2023 in Hyderabad stirred diverse reactions on social media, with some criticizing and others praising the show of support for Pakistan.
During the ICC World Cup 2023 match between Pakistan and Sri Lanka on October 10 at Rajiv Gandhi Stadium, Hyderabad, a viral social media post depicted fans in the stadium enthusiastically rallying behind Pakistan with chants of 'Pakistan Jeetega' (Pakistan will win). The video gained widespread attention on the social networking platform X.
Some fans were delighted to witness this outpouring of support for Pakistan, especially since it marked Pakistan's first visit to India for a cricket tournament since the 2016 T20 World Cup.
Loud chants of "Jeetega bhai jeetega, Pakistan jeetega" in Hyderabad stadium.

They did not start organically but DJ said "jeetega bhai jeetega" & left it to the crowd to finish the famous chant.

The chant went on for close to a minute due to the DJ.#PAKvsSL #CWC23 #Hyderabad pic.twitter.com/f5l54qmtsV

— Aditya (@forwardshortleg) October 10, 2023
However, a flurry of social media users expressed astonishment at the unexpected surge of support for Pakistan during their match against Sri Lanka. One X user went as far as to claim that the entire stadium in Hyderabad seemed filled with Pakistan supporters, passionately rallying behind their team.
@KTRoffice
Hyderabad stadium is filled with Pakistan supporters all over. The whole stadium is chanting "jeetega bhai jeetega, Pakistan jeetega"

It's a no brainer who these fools support even during Ind vs Pak. Why does your government support such anti-nationalists?#PAKvSL

— S Y Rahul (@siddhardhyrahul) October 10, 2023
Poor DJ's last chant at the office. Tomorrow morning he'll be fired.

— Shahid Wani (@shahidposts) October 10, 2023
Whole stadium is cheering so much for Pakistan team,which Hyderabad are they really playing???
.#PAKvsSL #CWC23

— Aftu (@aftu_twts) October 10, 2023
Some X users resorted to sarcasm to emphasize the surprising scenario of the Pakistan cricket team receiving support and encouragement in a match played on Indian soil.
Loud cheering noise is coming on TV whenever Pak hits a boundary against Lanka at Hyderabad.

Seems like BCCI is playing pre-recorded crowd cheers into the broadcast to notch up experience of fans.

What else could be the source of cheering for Pak in India? Can't think of any.

— THE SKIN DOCTOR (@theskindoctor13) October 10, 2023
On the match front, Pakistan achieved an extraordinary victory against Sri Lanka with a record-breaking ODI World Cup run chase of 345 runs. Muhammed Rizwan, Pakistan's wicket-keeper, and opening batter Abdullah Shafique played pivotal roles, both scoring centuries. Despite early setbacks with the wickets of Imam-ul-Haq and captain Babar Azam, Shafique and Rizwan's 176-run partnership laid the foundation for Pakistan's remarkable chase. Rizwan, even battling severe cramps, secured the win with 10 balls to spare, earning the Player of the Match award for his exceptional 131 off 121 deliveries. This win marked Pakistan's second victory in the World Cup.
Last Updated on October 11, 2023