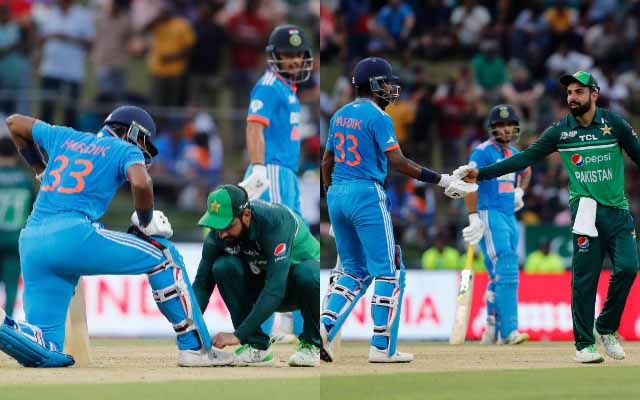 Amidst the traditionally heated India-Pakistan rivalry, Shadab Khan's gesture of tying Hardik Pandya's shoelace at the Asia Cup 2023 exemplified the power of sportsmanship and the enduring spirit of cricket.
Even with the fervent differences among cricket enthusiasts, players on the field continue to exemplify the true spirit of cricket, as witnessed in a memorable moment during the Asia Cup 2023 clash between India and Pakistan.
In the midst of the intense first-inning battle, where Hardik Pandya and Ishan Kishan were facing Pakistan's relentless bowling attack, Pandya encountered a shoelace mishap. To the surprise and admiration of many, Pakistani player Shadab Khan extended a helping hand, tying Pandya's shoelaces.
This heartwarming incident has gone viral on social media, symbolizing the unity and sportsmanship within the game.
Pakistani cricketer Shadab Khan ties Indian batter Hardik Pandya's shoelaces, exemplifying the true spirit of sportsmanship.

This heartwarming moment is sure to make your day and is truly the best thing on the internet today.
#PAKvIND #PakVsIndia #ShadabKhan #AsiaCup2023 pic.twitter.com/fb7cR8aunj

— Anokhay (@AnokhayOfficial) September 2, 2023
Hardik's gesture has reminded many of Yuzvendra Chahal's 2018 Asia Cup, when he tied a Pakistani batsman's shoelaces upon request, reinforcing the spirit of sportsmanship in cricket lore.
The vice-captain displayed exceptional batting prowess, crafting a crucial 87 off 90 balls, rescuing India from a precarious 66/4 situation. Hardik found a reliable partner in Ishan Kishan, who notched up his fourth consecutive ODI half-century with an impressive 82 off 81 balls at the Pallekele International Cricket Stadium.
This vital partnership salvaged India's innings after early dismissals of Rohit Sharma (11), Virat Kohli (4), Shreyas Iyer (14), and Shubman Gill (10) to post a competitive total of 266.
Last Updated on September 2, 2023