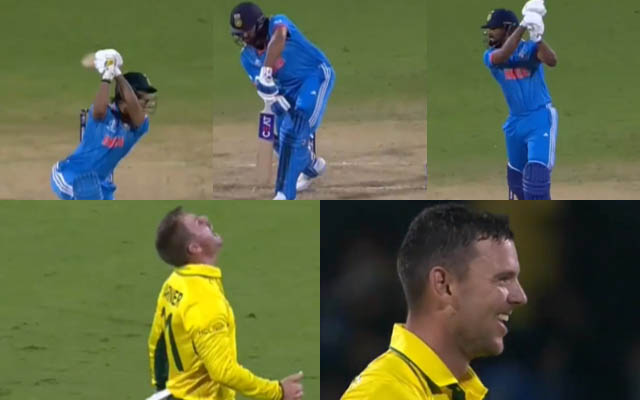 Mitchell Starc and Josh Hazlewood's early powerplay strikes plunge India into crisis during their pursuit of 200 against Australia in the ongoing World Cup clash.
In the World Cup match between India and Australia in Chennai, India's spinners restricted Australia to 199 all out, showcasing a strong performance on the field. However, India's batting suffered a nightmarish start, with Ishan Kishan, Rohit Sharma, and Shreyas Iyer all dismissed for ducks. This left India reeling at 2/3 within just 2 overs, nearly negating any advantage gained from their stellar bowling.
Ishan Kishan's World Cup debut began with a swift exit in the very first over. Mitchell Starc's skillful away swing forced Kishan into an ill-fated shot, resulting in a sharp edge securely held by Cameron Green at first slip. The young batsman departed with a golden duck, an unexpected turn on his World Cup debut.
In the second over, Josh Hazlewood trapped Rohit Sharma right on the pads, leading to an immediate finger raise by the umpire. Rohit promptly challenged the decision, but the review showed no edge. Despite Rohit's confidence, the decision appeared straightforward as the ball struck high on the pad, and he was safely within his crease. The skipper departed without adding any runs and dismissed LBW.
In the last ball of the same over, Shreyas Iyer drove a delivery straight into the hands of David Warner at short cover, leading to an easy catch. Iyer's departure after just three balls marked the third duck of Inda's innings.
Josh Hazlewood's double-wicket maiden over set the stage for an early setback for India, with none of their batters getting on the scoreboard.
Last Updated on October 8, 2023