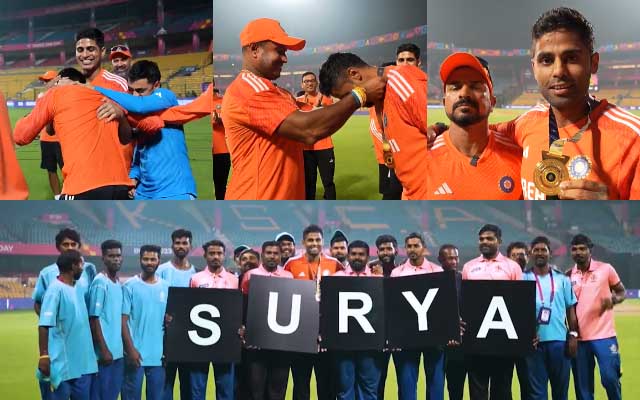 Surya Kumar Yadav clinched the Best Fielder medal, announced in Coach T. Dilip's style, projecting nominees on the big screen and sparking joyous moments.
In the thrilling aftermath of the India vs. Netherlands clash on November 12th, the spotlight shifted to the Best Fielder medal in India's dressing room. The contenders for the day included the fiery Ravindra Jadeja, applauded for his quick throws and sharp reflexes, Surya Kumar Yadav, acknowledged for his relentless spirit and agility, and the ever-reliable KL Rahul, lauded for his stellar work behind the stumps.
Coach T. Dilip, known for his flair in creative announcements, once again lived up to expectations. The nominees were showcased on the stadium's big screen, with groundsmen adding suspense by revealing placards bearing the winner's name. SKY emerged triumphant, receiving the medal from Nuwan, and spreading joy by capturing moments with the groundsmen.
Expressing his gratitude, Surya humorously remarked, "He (T. Dilip) has been behind me for over a year, and finally, I think this is the reward." The celebration wrapped up with Surya sharing snapshots with the entire ground crew.
On November 12th, India secured a 160-run victory against the Netherlands in their final league-stage game of the World Cup 2023. This win not only extended India's winning streak but also positioned them to surpass their previous best streak from 2003.
The team showcased a balanced performance, with five batters scoring 50+ runs, including two centuries. The depth of India's bowling talent was evident as Virat Kohli, Shubman Gill, Suryakumar Yadav, and skipper Rohit Sharma contributed with the ball. The Netherlands, facing a daunting target of 410, never posed a threat, solidifying India's position in the tournament.
Last Updated on November 13, 2023