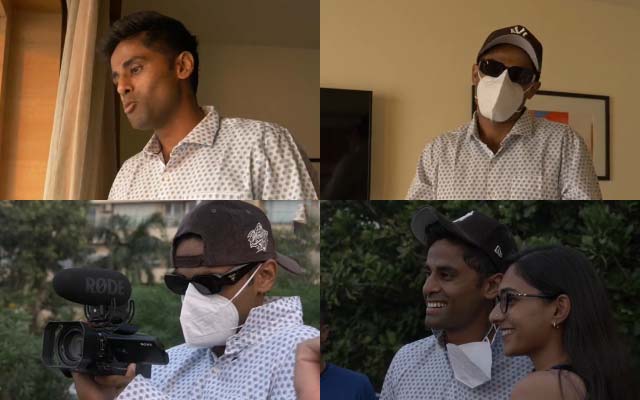 Suryakumar Yadav donned a clever disguise as a cameraman in a fun BCCI video, interacted with Mumbai cricket fans, humorously asked about Marine Drive's fame and addressed opinions.
India's own "Mr. 360," Suryakumar Yadav, took on the role of a cameraman in a fun social experiment set up by the BCCI social media team. He went undercover on the streets of Mumbai, engaging cricket fans to gather their opinions about the Indian cricket team.
In this fun video, Surya donned a clever disguise, explaining the necessity of concealing his distinctive tattoo with a full-sleeved shirt. He elevated his disguise with a cap, a full-face mask, and dark goggles. Upon emerging from his room with a camera in hand, he humorously offered coffee to the unassuming Ravindra Jadeja, who initially failed to recognize him. Ultimately, Jadeja acknowledged Surya's disguise with an appreciative thumbs-up.
"Why is Marine Drive so famous? Why do people keep coming here?" SKY asked a fan playfully. Meanwhile, another fan of SKY expressed disappointment that he did not have the opportunity to bat, mentioning that only a few players get that chance. The fan also highlighted the importance of Surya improving his game and performing better in upcoming matches while acknowledging that they can't dictate his actions.
Surya later revealed his identity to a fan and took photos with her and others.
Team India's social media presence has been top-notch since the start of the World Cup, covering dressing room conversations to best fielder winner announcement videos. Suryakumar Yadav, who played a crucial 49-run innings against England in Lucknow, now looks forward to continuing his good form at his home stadium in Mumbai, where India will face an injury-affected Sri Lanka on November 2.
Last Updated on November 1, 2023