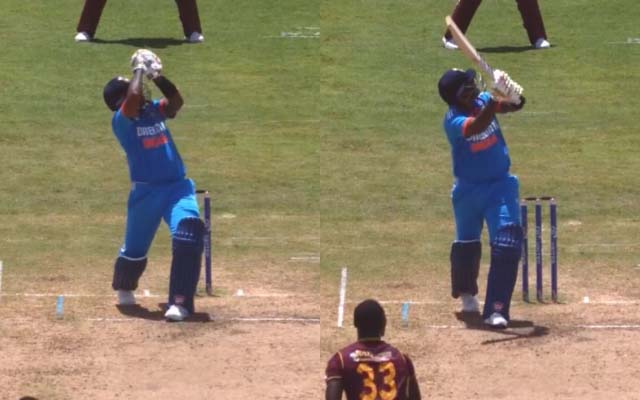 In the ongoing India Vs West Indies ODI 1, Indian cricketers have been showcasing their remarkable batting prowess, but it's Suryakumar Yadav who has stolen the limelight with his big-hitting shots and an impressive display of skill.
In the 7th over, facing Jayden Seales' delivery, he unleashed a sensational shot that sent the crowd into a frenzy. The delivery was a good length one, just outside the 4th stump, but Suryakumar expertly positioned himself and smashed the ball over the fine leg fence for a massive six.
The commentators couldn't contain their excitement as they exclaimed, "Typical SKY Shot. That is what he is known for."
S̶t̶r̶a̶i̶g̶h̶t̶ ̶o̶u̶t̶ ̶o̶f̶ ̶t̶h̶e̶ ̶b̶o̶o̶k̶@surya_14kumar#INDvWIonFanCode #WIvIND pic.twitter.com/ggXGyw4D7b

— FanCode (@FanCode) July 27, 2023
Earlier in the game, West Indies had a disappointing outing, getting bowled out for a mere 114 runs in 23 overs while batting first against India. The Indian bowling attack led by Ravindra Jadeja, who took 3 wickets, and Kuldeep Yadav, who claimed 4 wickets, proved to be highly effective in dismantling the West Indies batting lineup.
Last Updated on July 27, 2023