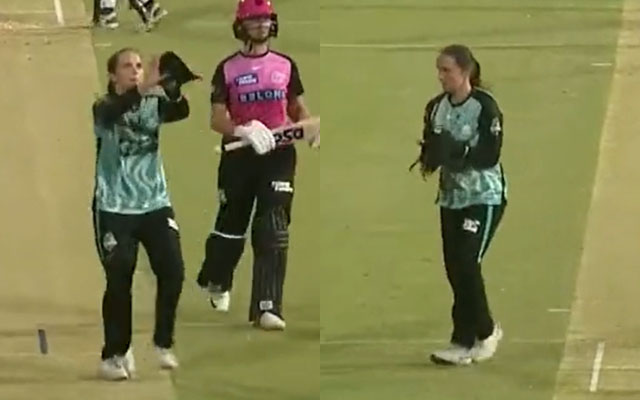 Sydney Sixers gained five penalty runs when Brisbane Heat's Amelia Kerr used a towel to catch a throw aimed at the non-striker's end, as umpires spotted the unusual incident.
During the Women's Big Bash League 2023's Match 49 between Brisbane Heat and Sydney Sixers on November 17th, an unusual incident occurred when Brisbane Heat's Amelia Kerr, using a towel, caught the ball aimed at the non-striker's end, resulting in a penalty of five runs. Ashleigh Gardner's shot led to a throw towards the non-striker's end, intercepted by Kerr using the towel. The umpire swiftly acknowledged the infraction, granting five additional runs to Sydney Sixers.
A fielder breaks the rules (MCC Law 28.2.1) by intentionally using something other than their body or extending their clothing with hands to handle the ball during play.
Today we learned: Catching a ball with a towel results in a 5-run penalty 😳#WBBLonFanCode #WBBL pic.twitter.com/PgLIvrJRHK

— FanCode (@FanCode) November 21, 2023
Kerr's infraction led to a five-run penalty, impacting the match outcome. Sydney Sixers triumphed by six wickets, chasing 177 in 19.5 overs. Gardner (36 off 30) and Burns (35 off 20) forged a crucial 61-run partnership. Carmichael (28* off 20) and Brown (21* off 15) sealed victory with an unbeaten 51-run stand.
In Brisbane's innings, Kerr (64 off 44) and du Preez (42 off 27) guided them to 176/7. Perry's 3/40 and J. Kerr's 2/20 were instrumental for the Sixers in bowling.
Last Updated on November 21, 2023