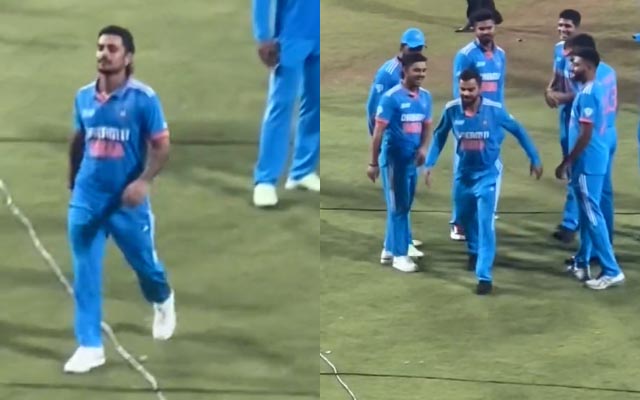 After India's resounding Asia Cup final victory against Sri Lanka on September 17, Ishan Kishan and Virat Kohli playfully mimicked each other's walks at the R Premadasa Stadium.
Kohli and Kishan, the dynamic duo both on and off the cricket field, once again unleashed their playful side in Colombo after India's spectacular ten-wicket triumph over Sri Lanka in the 2023 Asia Cup final.
As the post-match celebrations were gearing up, a bunch of the Indian squad gathered near the presentation stage, indulging in some lighthearted banter.
In a candid fan-captured video, you can spot Kishan cheekily strutting away from the group, nailing Kohli's signature swagger, complete with the occasional neck twitch. Not to be outdone, Kohli retaliated with an exaggerated, goofy walk, arms out wide, playfully poking fun at Kishan. This impromptu walk-off sent the crowd into fits of laughter, making it a hilarious highlight of the day's festivities.
In the Asia Cup 2023 final, India delivered an astonishing blow to Sri Lanka, restricting them to a total of 50 – the lowest ever ODI score against India.
The wrecker-in-chief, Mohammed Siraj, was in a league of his own, claiming six wickets for a mere 21 runs. His performance included a jaw-dropping four-wicket over within the first four overs and a lightning-fast five-for in just 16 balls, equalling the record for the quickest five-wicket haul in ODI cricket history.
In a brisk response, India chased down the target in a mere 6.1 overs, shaking things up by promoting Kishan to open alongside Shubman Gill.
This victory marked India's eighth Asia Cup triumph, solidifying their position as the most successful team in the tournament's history.
Last Updated on September 18, 2023