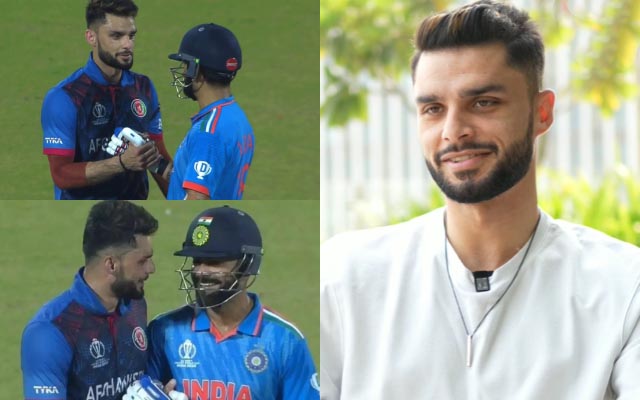 Despite the anticipated rivalry between Virat Kohli and Naveen ul Haq in the World Cup 2023 clash, Kohli's gesture to the crowd against booing Naveen led to a heartwarming reconciliation.
The highly anticipated clash between Virat Kohli and Naveen ul Haq during the 2023 World Cup in New Delhi resulted in a heartwarming turn of events. Despite the expected tension, Kohli's gesture toward the crowd stopped the booing towards Naveen. Subsequently, they shared a reconciliatory hug and smiles, resolving their differences.
WATCH THE VIDEO | Virat Kohli and Naveen-ul-Haq Hug It Out During the ICC World Cup India Vs. Afganisthan Clash
A month later, the retired Afghanistan pacer in an interview with his IPL team, Lucknow Super Giants, disclosed that it was Kohli who initiated the reconciliation, suggesting they leave the past behind, which culminated in laughter, a mutual embrace, and Kohli's assurance of crowd support.
"He told me 'Let's finish it.' I said yeah let's finish it. We laughed about it, we hugged and moved on. He also said that after this you won't hear my name. You will only hear support from the crowd," said Naveen.
Except for the match against India, Naveen mentioned that Afghanistan felt a home-like atmosphere and received widespread support throughout every other game played in India during the World Cup.
READ MORE | Virat Kohli and Naveen-ul-Haq Share a Light Moment After the Match, Surprising Fans
Last Updated on November 18, 2023