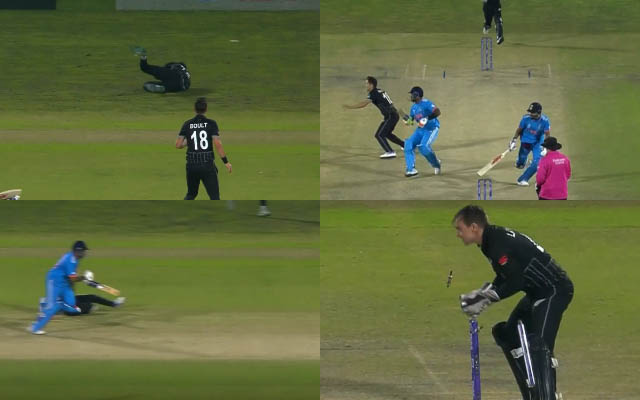 Suryakumar Yadav sacrificed his wicket to ensure Virat Kohli's safety on his World Cup debut, getting run out for just 2 runs due to a mix-up in communication between the two batsmen.
In the ongoing India vs. New Zealand game in Dharamshala, a crucial run out occurred in the 34th over. Suryakumar Yadav played a delivery from Trent Boult to the left of the cover and tried for a quick single, with Virat Kohli initially responding. However, Kohli changed his mind when he saw Boult diving to collect the ball. This hesitation and miscommunication led to a mix-up between Kohli and SKY. The throw from cover fielder Santner reached Boult, who rolled it to the wicketkeeper. Unfortunately, Suryakumar Yadav was nowhere in the frame, resulting in his run-out for just 2 runs off 4 balls.
The former Indian captain was left stunned as he watched his batting partner departing, leaving India at 191 with five wickets down.
Earlier, India's chase of 274 runs began strongly with Rohit Sharma and Shubman Gill, who collectively scored 71 runs for the first wicket. However, their partnership was broken by Lockie Ferguson, who dismissed Rohit for 46 (from 40 balls) and Gill for 26 (from 31 balls). Following this, Virat Kohli and Shreyas Iyer contributed 52 runs for the third wicket before Trent Boult removed Iyer, who scored 33 (from 29 balls). KL Rahul then joined Kohli, and the pair added over 50 runs to the total before Rahul was dismissed by Mitchell Santner for 27 (from 35 balls).
In the midst of these partnerships, Kohli remains steady and reached his half-century. India's chase is proceeding steadily in pursuit of the target set by New Zealand.
Last Updated on October 22, 2023