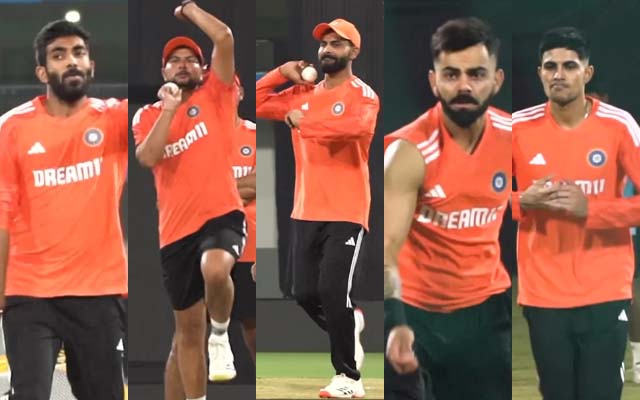 Team India's net session featured Virat Kohli, Suryakumar Yadav, and Shubman Gill participating in a lively bowling practice to compensate for Hardik Pandya's absence.
In preparation for the upcoming match against England in Lucknow, with Hardik Pandya rested, India has adopted a five-specialist-bowlers strategy and encouraged part-time bowlers to offer support and flexibility. During India's practice session, notable players like Virat Kohli, Shubman Gill, and Suryakumar Yadav took up bowling duties. Virat Kohli, who recently assumed the role of a bowler when Pandya was injured, bowled around twelve deliveries to Rohit Sharma and Shubman Gill.
The official Instagram page of the Indian cricket team shared their fun bowling session on their account.
Among these part-timers, Suryakumar Yadav was notably active, serving as the team's sixth bowler. He bowled to Rohit and Shreyas Iyer, even managing to outsmart the latter, earning praise from Ravichandran Ashwin. After an extensive net session with the seasoned off-spinner, Suryakumar continued bowling for another 15 minutes in the adjacent nets while skipper Rohit Sharma focused on his batting practice. As top-order batsmen experimented with their bowling skills, specialist bowlers focused on improving their batting abilities.
One of the major concerns leading up to the World Cup was the lack of contributions from top-order batsmen in the bowling department and the question of whether lower-order bowlers could reliably contribute with the bat. With all-rounder Pandya sidelined for at least the next two games, this aspect is under closer scrutiny.
Hardik Pandya missed the game against New Zealand in Dharamsala and is currently undergoing specialized treatment at the National Cricket Academy in Bengaluru. India's next game is scheduled for the 29th of October against England.
Last Updated on October 27, 2023