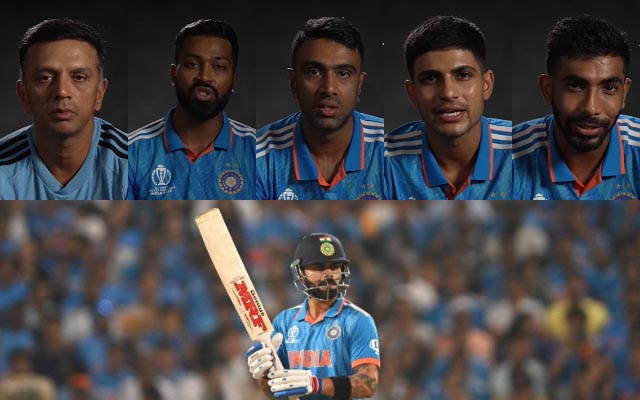 Cricket sensation Virat Kohli marks his 35th birthday, celebrated with heartfelt admiration from teammates and a tribute video by the ICC.
Virat Kohli, the cricket sensation often compared to legends like Sachin Tendulkar and Sir Viv Richards, celebrates his 35th birthday on November 5th. His teammates expressed their admiration by showering him with praise, recognizing his unyielding passion for the game and the mark he has left on the cricketing world.
In a video uploaded by the ICC on social media, the Indian cricket fraternity came together in a video tribute to Kohli. Head coach Rahul Dravid voiced out his commendation by stating, "Virat is a cricket legend, especially in the ODI format. His performances across all formats have set a benchmark for his generation, particularly in the way he finishes games and maintains a high standard over the years."
Kohli's teammates also chimed in with their admiration. Shubman Gill praised him, saying, "His dedication and love for the game are unmatched." Jasprit Bumrah echoed the sentiment, noting, "The fire and commitment to the game, even after playing for so long, haven't diminished; it only continues to grow."
Hardik Pandya stressed Kohli's embodiment of fitness culture and camaraderie, expressing how he serves as an inspiration to both players and millions of fans. Ravichandran Ashwin also joined the chorus of admiration, saying, "He's (Kohli) changed the DNA of thinking around Indian cricket".
Since 2008, Kohli has played 514 matches, amassing 26,209 runs at an average of 54.03 with 78 centuries and 136 fifties, ranking fourth in international cricket run-scorers, behind Tendulkar, Sangakkara, and Ponting.
Kohli's 35th birthday holds special significance as India is in the midst of a World Cup campaign on home soil, intending to bring the trophy back after a 12-year gap.
Virat Kohli is currently showcasing remarkable form in the 2023 World Cup, achieving both a century and several half-centuries. He's determined to etch his name in history by becoming the first Indian to secure two ODI World Cups, nearing Sachin Tendulkar's record of 49 centuries. As he steps onto the Eden Gardens against South Africa on November 5th, fans are eagerly awaiting his passionate display.
Last Updated on November 5, 2023