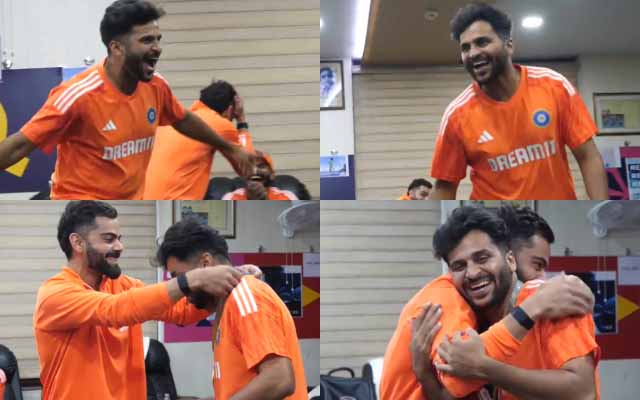 With a touch of comedy, Virat Kohli presented the Best Fielder Medal to Shardul Thakur after the fielding coach declared Thakur the match's best fielder.
In the ICC Cricket World Cup 2023, India extended their winning streak with an impressive eight-wicket victory over Afghanistan at Delhi's Arun Jaitley Stadium on Wednesday, October 11. Afghanistan, opting to bat first, managed to post 272/8 in their 50 overs, led by captain Hashmatullah Shahidi, who scored a solid 80 off 88 balls. India's response was swift and assured, as they comfortably achieved the target in just 35 overs, driven by a record-breaking century from their captain, Rohit Sharma, who scored 131 off 84 deliveries.
After the game, India's fielding coach, T. Dilip, dished out heaps of praise for the entire fielding squad, highlighting the exceptional efforts of players like Virat Kohli, Hardik Pandya, and Ishan Kishan, who had the batters in a 'fielding fortress.'
However, the "Best Fielder of the Match" honor went to Shardul Thakur for his jaw-dropping catch of Rahmanullah Gurbaz near the deep square leg. In a playful twist, Virat Kohli, the previous award-holder from the Australia match, humorously looked stunned and handed over the medal to Shardul. His 'shocked' expressions evoked laughter in the dressing room.
In the 13th over of the first innings, Rahmanullah Gurbaz pulled a short delivery from Hardik Pandya toward deep square leg. Shardul, stationed at the boundary, displayed remarkable agility, catching the ball just inside the boundary, and while falling, swiftly released it. Thakur then leaped back inside the field to secure a fantastic catch, marking India's second wicket.
"That catch was I think at the crucial period because Hardik took a chance by bowling the bouncer and we needed a wicket a that stage. Very happy to convert that catch," said Shardul in a video posted by the BCCI.
Last Updated on October 12, 2023