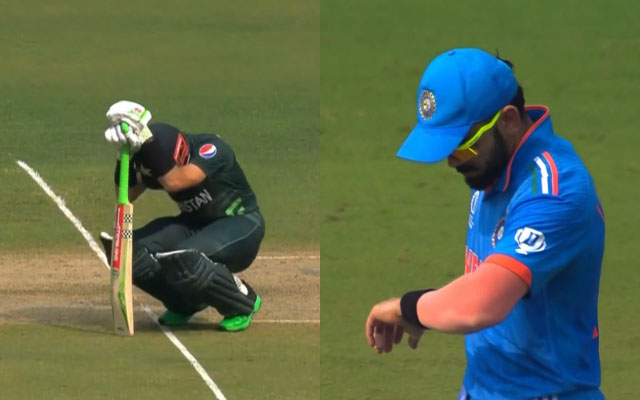 In the ongoing India vs. Pakistan match in Ahmedabad, Virat Kohli was spotted playfully gesturing at an imaginary watch, nudging Mohammad Rizwan to speed up his preparations for the first ball.
During the 2023 World Cup's intense India-Pakistan clash in Ahmedabad on October 14, a light-hearted moment unfolded when Virat Kohli, not wearing a watch while fielding, pretended to check an imaginary one on his wristband. He directed this playful gesture at the incoming batsman, Mohammad Rizwan, who was taking his time after Imam-ul-Haq's dismissal in the 13th over by Hardik Pandya.
As Rizwan prepared to face the first delivery, Kohli comically indicated with his imaginary watch that time was ticking away. With a hand on his waist, he urged Rizwan to quicken his pace. The former India captain continued to theatrically monitor the imaginary time, playfully emphasizing the need for urgency. Ultimately, Rizwan faced a dot ball, but he eventually rotated the strike after a few deliveries.
On the match front, Babar Azam and Mohammad Rizwan have formed a formidable partnership, posing a significant threat to India. This comes after India's Mohammad Siraj and Hardik Pandya secured vital wickets by dismissing the Pakistani openers. Opting to field first after winning the toss, India's skipper Rohit Sharma reintroduced Shubman Gill, replacing Ishan Kishan.
Initially, Abdullah Shafique and Imam-ul-Haq found the boundary frequently, with Shafique's dismissal in the eighth over being a redeeming moment for Mohammed Siraj. Imam had been steady, accumulating 36 runs from 28 balls before Hardik Pandya dealt another blow and animatedly sent him back to the pavilion.
Last Updated on October 14, 2023